Selma Blair Fired From 'Anger Management' By Charlie Sheen With Profane Text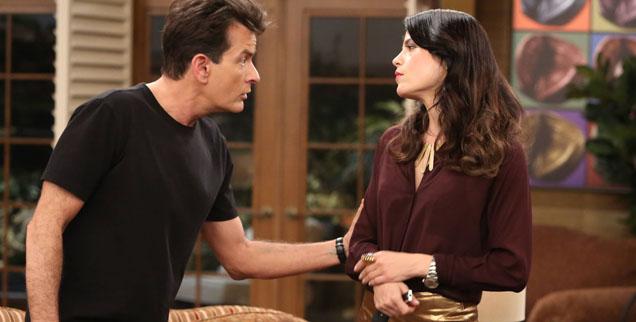 Selma Blair was fired Tuesday from the FX sitcom Anger Management, RadarOnline.com has confirmed.
"We are confirming that Selma Blair will not be returning to Anger Management and we wish her the very best," studio Lionsgate Television said in a statement.
Sheen "fired" Blair by text, says Deadline Hollywood , adding that Sheen called her the "c" word in that text.
Cast and crew sometimes waited hours for Sheen to show up for work, Deadline said, with Blair taking the fall for "voicing her concerns."
Article continues below advertisement
Blair, 40, had appeared in 33 episodes opposite costar Charlie Sheen, who reportedly issued an ultimatum to the studio that she be fired or he'd refuse to shoot with her.
Blair had complained to show management that Sheen, 47, was a "menace to work with."
Sheen has supposedly tried to recruit Mila Kunis as a replacement.
Blair played Sheen's therapist and love interest on the show. Deadline says the show will stay in production and adjust its story lines.
Anger Management was Sheen's "comeback" vehicle after his colorful blowout with Chuck Lorre and departure from the CBS hit Two And a Half Men.
An incident with Sheen and a porn star in a New York hotel room triggered the events that led to his separation from the show Lorre created. A lawsuit by Shen ensued – and was settled – before he resurfaced on FX with Anger Management and a lucrative financial deal.
Sheen's character Charlie Goodson is a former baseball player who becomes an anger management therapist. Shawnee Smith plays his ex wife and after Blair is the most high profile female character.
Sheen has a lucrative financial deal that pays him, according to some reports, nearly $100 million for the show.