Someone Failed Sex Education! City's Controversial Ad Campaign Features Pregnant Boys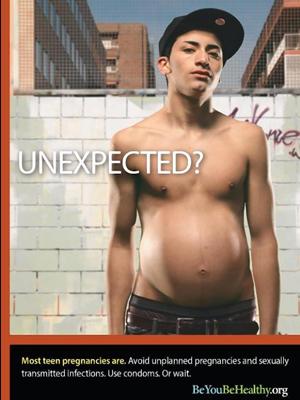 Groundbreaking or just ineffective and silly?
You be the judge about the impact of a new ad campaign showing "pregnant" boys in an attempt to reduce teen pregnancy.
The ads show shirtless boys with swollen stomachs and sad, sad faces. The type "unexpected?" appears next to or on the image.
(Why yes, it was COMPLETELY unexpected when my son came home pregnant.)
And while teen pregnancy is obviously a serious matter, the ads, which are part of a Chicago Department of Health campaign, seem odd to say the least.
Article continues below advertisement
But proponents say they will be effective and a similar campaign led to a 10% drop in teen pregnancy when first used in Milwaukee in 2009.
"The point was to get people's attention and get conversation started about teen pregnancy and teen births, and how they really affect a community," Brian Richardson, spokesman for the Chicago Department of Health, told the New York Daily News .
He also wants to drive home the point that when a teenage girl gets pregnant she's is not the only one suffering, according to the Daily News.
Do you think the ads will be effective? Let us know in the comments section below.