Man Arrested For Allegedly Threatening To Kill Miranda Kerr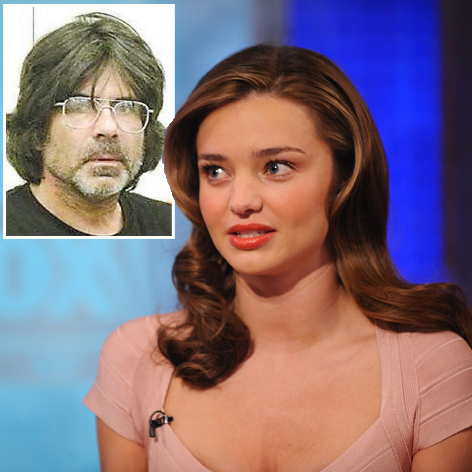 A man in Sandwich, Mass., has been arrested for threatening to kill former Victoria's Secret model Miranda Kerr, RadarOnline.com has learned.
Steven C. Swanson pled not guilty on June 19 after he allegedly threatened to fly across the country to Los Angeles to kill the Australian-born mother of one.
Local police in Sandwich were notified by the Los Angeles County Sheriff's Department that Steven had called the department and said he was planning to fly to Los Angeles the following month and kill the model, according to the Cape Code Times.
Article continues below advertisement
He also reportedly said that he would travel from Boston to Los Angeles where he would "turn the place upside down."
When the local police arrived at the man's house, he supposedly told them that he was going west to rescue Kerr and that he was a Federal Agent.
Steven was had pictures of Miranda on his microwave, refrigerator and bookshelf, police said.
But while he had reportedly said that he would kill Miranda using two .45 caliber guns that he had ordered, police were unable to locate the weapons.
Instead, they found a pellet gun and confiscated it because it looked like "a real pistol."
During the June 19 hearing, a doctor testified that Steven is bipolar and schizophrenic - and that he had stopped his medications back in March.
The judge ordered Steven to undergo a psychiatric evaluation and he was held on $8,000 bail.
The man is due back in court on July 19 where he is expected to fight the charge of making a threat concerning a firearm, which is a felony offense.
Steven's attorney, Elizabeth Kliber, said that Steven denies the allegations made against him.