Exclusive
Michael Jackson's Daughter Paris Still 'Emotionally Fragile' On Fourth Anniversary Of Dad's Death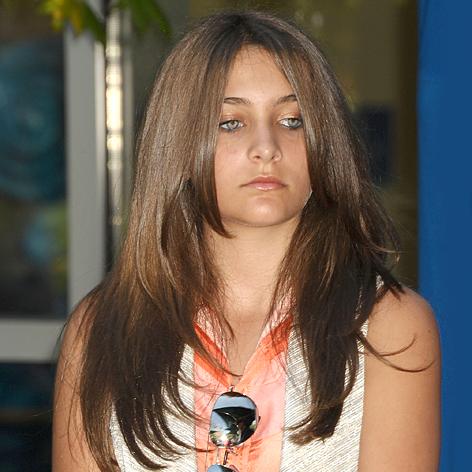 The troubled teenage daughter of late pop star Michael Jackson will spend the fourth anniversary of his death surrounded by family at the hospital where she's being treated after attempting suicide three weeks ago, RadarOnline.com is exclusively reporting.
Paris is "expected to receive visits from grandmother, Katherine Jackson, her biological mother, Debbie Rowe, brothers, Prince and young brother Blanket," a family insider revealed.
Article continues below advertisement
Former nanny Grace Rwaramba is also anticipated to spend time with the 15-year-old on the anniversary.
"Paris is emotionally fragile and it's important for her doctors to physically assess and monitor her on an occasion like the four year anniversary of her father's death" the source said. "She is just raw and exhausted. Plans are being made for Paris' medical care once she leaves the hospital. It will be intensive. She has a very long road ahead of her, but the good news is Paris is getting help."
Just last week, jurors in the Jackson's billion dollar wrongful death lawsuit against concert promoter AEG were shown an excerpt of Paris' video deposition from earlier this year.
Looking poised and confident, Paris smiled, laughed and joked with lawyers deposing her.
During the excerpt, Paris made shocking statements about Ugandan-born Rwaramba, her former nanny and the woman who had worked for her father for 17 years.
Article continues below advertisement
Charged Paris: "My dad didn't like her so he tried to keep her away from us. He would send her to run errands a lot… He said she was sneaky, she was not an honest person and she lied a lot."
However, family sources tell RadarOnline.com that Grace has since visited Paris in hospital after the deposition was made public.
The Jackson family matriarch, Rowe and Rwaramba "have made it clear to Paris how much she is loved."
"They've done a remarkable job of showing this young lady that she isn't alone," the insider added.
"However, they know that all the love in the world can't ease the source of Paris' pain, the loss of her beloved dad. Paris loves Grace and the feeling is mutual. They have a very complex relationship that is complicated by Paris' aunts and uncles. Still, Paris continues to allow Grace to visit. In fact, Paris has specifically asked for Grace to visit."