Exclusive
Kim Kardashian & Kanye West Issue Cease And Desist -- We Have Nothing To Do With Your Charity Auction!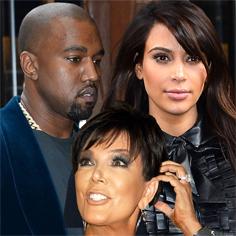 Less than a week after Kim Kardashian gave birth to her first child with Kanye West, the couple issued a cease and desist legal letter to a publicity company advertising their involvement in a charity auction to celebrate the birth of baby North West -- and RadarOnline.com has all the exclusive details.
It all started when Jonathan Hay of Jonathan Hay Publicity posted details of a painting of Kanye that would be auctioned off between June 19 and July 3, with proceeds going to Lurie Children's Hospital of Chicago, under the guise that Kim and Kanye asked for donations to that charity instead of receiving baby gifts.
Article continues below advertisement
EXCLUSIVE DOCUMENTS: Kim & Kanye Send Legal Letter Over Charity Mix-Up -- See It Here
However, despite a disclaimer that Jonathan claims was at the bottom of the website clarifying the non-involvement of Kim and Kanye, their attorneys say the entire thing was misleading and their clients had nothing to do with it.
"While our clients certainly have no objections to yours and Mr. Michael A. Smith's desire to donate money to the Charity, and in fact would applaud your making a donation, you cannot do so under the guise that it is pursuant to a request by our clients, that your activity is sanctioned or approved by Ms. Kardashian and Mr. West, or are involved in any way with your 'charity auction.' Yet, this is exactly what you have done," attorney Lisa M. Buckley wrote to Jonathan's company in the June 20 legal letter.
"The construction and phrasing of this advertisement -- first referencing our clients' request that charitable donations be made in lieu of baby gifts, your comment that the Charity that will purportedly receive the proceeds of the auction is our clients' 'charity of choice,' and your reference to a painting of Mr. West first seen in one of his music videos -- creates a very strong impression that our clients are connected to or otherwise involved in your venture."
Article continues below advertisement
Throughout the three-page letter, the couple's attorney claims the unauthorized and misleading ad could harm their reputations and asked that Kim and Kanye's name be removed from the website, TheseWallsRevisited.com, immediately.
"While neither Ms. Kardashian nor Mr. West have any interest in squashing your desire to donate money to the Charity, you must do so without any reference to them," the letter concludes.
In an exclusive interview with Radar, Jonathan says it was clearly stated on the website that Kim and Kanye had nothing to do with the charity auction and didn't find the ad misleading at all.
"We hear that Kim and Kanye were asking for donations to Lurie Children's Hospital so we thought it would be a nice gesture to donate the money there," Jonathan told Radar.
"We're not fans of either of them, but since Kanye did produce the original song we thought it would be respectful to donate to something near and dear to him... They brushed us off with the wave of a hand, after all of our hard work, so we felt justified in responding to them the way we did."
Article continues below advertisement
And the way they did was with a five-page response to Kim and Kanye's legal team.
EXCLUSIVE DOCUMENTS: Jonathan Hay Publicity Responds To Kim & Kanye's Legal Letter
"Last year, Todd Wilson informed me that he would be sending to me a confidentiality agreement on behalf of the Kardashians. The agreement was in regard to all of the 'family secrets' and potentially 'damaging information' about the family that I was made privy to by one of the family's former employees, who was at one time one of their most trusted associates," the response letter starts out.
Jonathan is referring to the Kardashian's former nanny, Pam Behan, who wrote a revealing tell-all book on the reality TV family -- and Jonathan Hay Publicity represented her.
"I had helped the family through a stressful time and they were thankful for my deeds and the way that I handled the situation -- they trusted that I would never reveal this damaging information to anyone. Mr. Wilson even stated that I had conducted myself with integrity," the letter reads.
Article continues below advertisement
"I fail to understand at this point, why my character would be in question now and why I would receive a letter threatening legal action; a letter which attacks not only my character but the integrity of my company, and contains malicious and false statements about our intentions."
Jonathan and his company claim in the letter that they attempted to reach out to Kris Jenner via email on July 19, 2013, with a copy of the press release for the painting auction.
"All Kris really had to do was reply to the email and talk to us directly, we were on friendly terms with the Kardashians so we would've respected their wishes," Jonathan told Radar.
"The ones affected the most by this are the children and their families."
Upset with the tone of the letter sent to his company, Jonathan wrote in the response letter, "I resent the tone in which your letter reads, and the manner in which your clients have chosen to handle this situation. The tone was hostile, belittling, and accusatory."
Article continues below advertisement
Jonathan states "we cannot control the public's assumptions, despite our carefully worded 'advertisement.'"
After five pages, Jonathan and his associate Sabrina Hale end the letter stating they have complied with the requests of Kim and Kanye's attorney.
"We have complied with your requests and removed the information from the website, not because of any legal threat to our company but because are disgusted and appalled at the way the Kardashian/Jenner family and Kanye West have handled this situation and we do not want the public assumption -- as you stated is inevitable -- that we are in any way associated with either one of their brands."
Oh, and this final line: "By the way, we will be burning the painting of Kanye West."
Do you think Kim and Kanye were right to send the legal letter to Jonathan, or was it uncalled for? Sound off below...