Moving To Paris Permanently? Kanye West Selling $4.5M New York Bachelor Pad!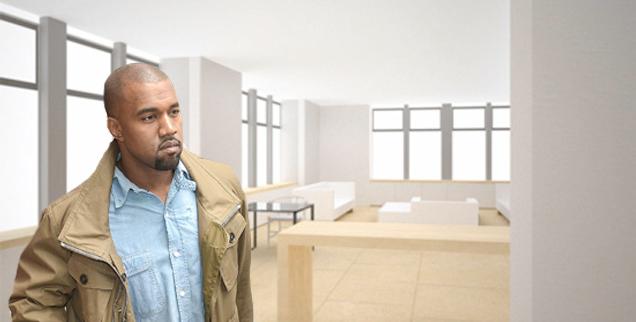 With the pitter-patter of little feet getting louder and louder, Kanye West is looking to unload his New York bachelor pad -- and we've got the details of the rapper's real estate rumblings right here on RadarOnline.com.
The Soho pad, which was designed by renown minimalist architect Claudio Silvestrin, is located on West Houston Street. It includes a curving entrance hall, large windows, high ceilings and a powder room and a freestanding stone basin in the bathroom, among other amenities.
Article continues below advertisement
"The apartment is amazing. If you like modern and sleek spaces, this is it," said one of the brokers who visited the space.
The master suite's walk-in closet also contained more than a dozen pair of expensive sneakers, mainly Air Jordans, the broker told the New York Post.
While the New Workout Plan singer initially listed it for $4.5 million, the listing was abruptly pulled off the markets soon thereafter.
Other stars who live in the Gotham celeb hive include stunning celeb chef Padma Lakshmi and The Good Wife star Julianna Margulies.
As we previously reported, the Paranoid singer and his paramour Kim Kardashian are expecting their first child this summer, and the rapper might want an alternative place to rest his head when not at her family's Calabasas, Calif. mansion.
One source previously revealed how Kanye, 35, was loving Paris and was having a great time there working on his album. "He'd like to move there," an insider said. Is unloading the New York pad part of the plan?