Exclusive
Justin Bieber And Selena Gomez Back On! Inside Their Secret Movie Date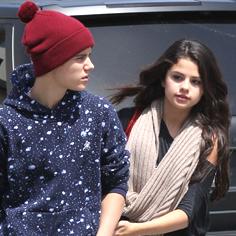 Ah, young love. Selena Gomez has insisted she's single in recent weeks, while Justin Bieber was spotted out with a married cocktail waitress in Vegas, but the perpetually off-and-on duo just can't stay apart. Thursday night, the pair was spotted enjoying a movie date at the ArcLight Theater in Sherman Oaks, California.
Selena and Justin were spotted by multiple eyewitnesses sitting in the front row of a late-night screening of This is the End on Thursday, June 27.
Article continues below advertisement
According to reports on Twitter, they snuck in after the movie had already started and left before it ended, hoping to avoid fans. When approached by one persistent Belieber, Justin declined to pose for a photo, explaining that it wasn't the right time.
Selena, 20, and Justin, 19, were also spotted together earlier in the week, at the L.A. birthday bash for music duo Frequincy on Monday night.
"Justin and Selena looking awesome tonight," infamous teen celeb hunter Stalker Sarah posted on her Twitter feed on June 24. "Still the cutest couple in Hollywood #frequincybirthdaybash."
In her next tweet, she posted that she was forced to sign a confidentiality agreement, and was therefore unable to take any pics of the duo.
Neither Justin nor Selena has tweeted about their reunion.
Justin is due back in Vegas tonight, June 28, for a concert.