The Duggars Are Grandparents Again! Son Josh and Wife Anna Duggar Welcome Baby No.3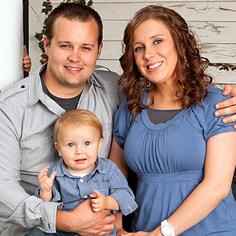 Jim Bob and Michelle Duggar — famous for their hit TLC reality show, 19 Kids and Counting — are grandparents again!
Their oldest son, Josh, and his wife, Anna, welcomed the birth of their third child on Sunday — a baby boy named Marcus Anthony, People.com reports.
Marcus Anthony was born at 11:32 a.m. and weighed in at 9 lbs., 3 oz.
Marcus also already has two older siblings: sister Mackynzie, 3, and brother Michael, who will turn 2 this month.
MORE ON:
19 Kids and Counting
Article continues below advertisement
Josh and Anna were "thrilled to welcome a little brother."
"We are so thankful that mom and baby are well!" the couple said. "We are blessed to have our family close as we celebrate this gift from God."
Marcus Anthony's birth will of course be a part of the current season of 19 Kids and Counting. His special episode titled, 19 Kids & Counting: GrandDuggar Makes 3!, airs June 16 on TLC.