Exclusive
'Hire The Edge': Richie Sambora Sends Jon Bon Jovi A Three-Word Email After 'Insulting' Comparison To U2 Guitarist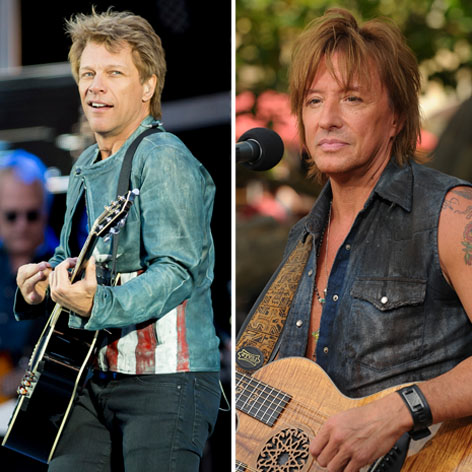 A furious Richie Sambora sent Jon Bon Jovi a terse three word email after the Bon Jovi frontman suggested he was unlike U2's The Edge and a replaceable guitarist -- the latest salvo in the pair's simmering feud.
"It read, 'Hire The Edge,'" a source with knowledge of the missive told RadarOnline.com.
The email was in response to Jon's May 20 interview when the 51-year-old suggested guitarist Sambora, 53, was easier to replace than the famed U2 guitarist.
Article continues below advertisement
Hinting Sambora quit the current tour due to substance issues -- a claim he denies -- Jon said: "Fortunately for us the same guy who filled in last time was available this time.
"Life goes on, so if someone chooses not to be here... unlike if this were, God forbid, The Edge, and he for some reason couldn't make a U2 show, then it would be very difficult to just step in."
A band insider told Radar: "Richie was so p*ssed off and insulted with The Edge comment that he couldn't bite his tongue any longer. He sent Jon an email, but Jon did not respond. Jon hasn't called Richie once since this all began. It would seem that he does not want the band back together, despite what he told Ellen DeGeneres."
In April, Jon told DeGeneres: "Honest to God is that it is a personal matter. He is still a member of the band."
Last month, Sambora said he was prepared to rejoin the band for its show in London's Hyde Park, saying "I would love to be in London... let's see what happens."
"The fans have paid money to see Bon Jovi and right now they are not getting the whole deal," Sambora told the Daily Mail.
But our source questioned whether the group could be revived: "There are genuine fears this is the end of Bon Jovi. It seems Jon won't budge."