Exclusive
Inside Kim Kardashian's 'Pink & Garden Chic' Baby Shower -- The Guest List, Menu, Speeches & More Revealed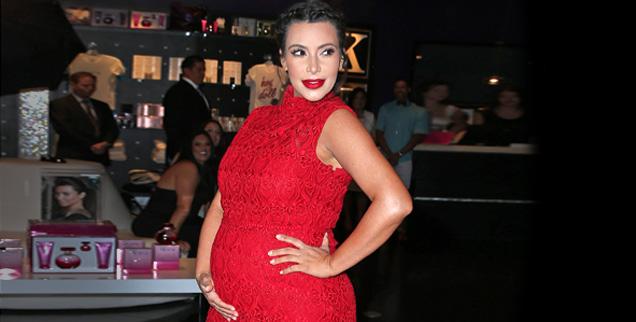 Kim Kardashian — with Kanye West at her side — celebrated the pending birth of their baby girl with a garden-chic themed baby shower in Beverly Hills on Sunday.
RadarOnline.com has all the details about the lavish affair: From the menu, to the toast and the exquisite surroundings at the multi-million dollar home of Shelli Azoff -- wife of West's former manager Irving Azoff and Kris Jenner's best friend.
Article continues below advertisement
Guests were given handmade wildflower wreaths to wear on their head!
"Kim and Kanye were so cute – he rubbed her belly," Kardashian's aunt, Karen Houghton, said. "They're just really blessed. It's such a happy day."
The group ate a brunch buffet – pancakes, waffles and fruit – before indulging in a dessert station that included pink cotton candy, pink lollipops and strawberry shortcakes.
32-year-old Kim wore a long, flowy ivory dress with flat sandals. Her hair was styled into three braids with gold ribbons, not that prying shutterbugs hovering above in helicopters were able to notice — as white umbrellas followed around the E! reality star, in an apparent attempt to shield her.
Article continues below advertisement
Following the brunch, traditional games were played including guessing baby names before momager Kris, wearing a long-sleeved pink dress with a white collar and cuffs, made a tearful speech.
"Kris gave a beautiful champagne toast, where she welcomed Kanye's family and talked about Kim's new chapter in her life, as she choked back tears," a source told RadarOnline.com.
Not to be outdone, Kim's eldest sister Kourtney donned a short cream lace dress and a floral crown, while Khloe wore an all-white dress with a simple, thin belt.
Their partners Scott and Lamar were also in attendance, while Kanye arrived towards the end of the party, a source said, as RadarOnline.com had previously reported was the plan.
"Kanye's whole family – all the women from his mom's side and dad's side – attended the shower," a source told People.
"Kanye was so excited to have his family be there to join in the celebration with Kim's friends and family."
The 7-bedroom home venue was a change from typical Kardashian baby shower protocol: Kourtney, 34, celebrated both her son Mason and daughter Penelope's baby showers in the family's Calabasas, Calif., home.
Though Kim and Kanye reportedly requested their guests make donations to charity instead of buying presents for their baby, the couple was still showered with some gifts, many of which were purchased from the high-end West Hollywood, Calif., Bel Bambini boutique.
And as if routine with the Kardashians, cameras rolled at the extravagenza, with scenes expected to feature in E!'s Keeping Up With The Kardashians, which debuted its eighth season on Sunday night.