Exclusive
007's License To Drink: Court Overturns George Lazenby's Booze Ban In Divorce Against Ex-Pam Shriver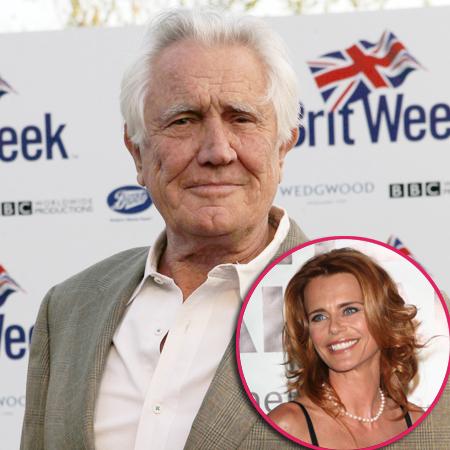 It was one of the most bitter divorce battles to hit Hollywood in recent years, but peace has finally broken out between James Bond star George Lazenby and his five-time Wimbledon doubles champion ex-wife, Pam Shriver.
The pair have gone to a Los Angeles court in January, RadarOnline.com can reveal, to have a judge overturn a booze ban that Shriver, 50, had insisted a judge impose on 73-year-old Lazenby, who she previously claimed was an alcoholic.
Article continues below advertisement
And Los Angeles Superior Court Judge Robert Willett agreed to sign off on 007's license to drink!
"Respondent is restrained and enjoined from consuming alcohol 12 hours prior to his custodial time with the minor children and during his custodial time with the children... is herby vacated," a stipulation and order document, signed off by the pair on Jan. 10, states.
During the couple's contention court battle, Shriver had ripped the lid of the Queanbeyan-raised Lazenby's battle with the bottle.
In court documents, she claimed the debonair star who played Bond in On Her Majesty's Secret Service had fallen off the wagon and threatened and intimidated the couple's three children, George and twins Kate and Sam.
"I have been concerned with some recent signs that (Lazenby) is drinking again," Shriver told court, at the time. "On April 3, 2010, he sent me a strange middle of the night unsecured email. The next day at the custody exchange, I smelled alcohol on his breath."
Article continues below advertisement
The pair later settled their dispute with shared custody.
But it was not before damage was done to both of their reputations; ESPN commentator Shriver also made the shocking claim that Lazenby once hit his son with a remote control because he couldn't hear the television.
In 66 pages of lurid testimony, Shriver painted a startling picture of the silver screen legend.
She testified to the court that she began suspecting the 007 star had started boozing again after voluntarily seeking treatment during their six years of marriage, for substance abuse problems as well as anger management issues.
Shriver claimed he appeared drunk during a Skype session with the kids when he was in London holidaying at a friend's house.
What's more, she said he refused a random alcohol/drug test after her suspicions were aroused.
Lazenby, for his part, insisted to the court: "I am not a violent or aggressive person."
Indeed, far from accepting he was the guilty party in their turbulent marriage, Lazenby himself told court Shriver was taking a 'nightly cocktail' of prescription sleeping pills that she mixed with painkillers and rum or vodka, regularly leaving her in a drug-induced "stupor."
Article continues below advertisement
As for his own battle -- despite once admitting in an interview he "was socking the bottle like crazy" and downing two bottles of vodka a day -- Lazenby's former publicist had insisted he'd been enrolled in Alcoholic Anonymous for years.
In another court filing, Shriver submitted print-outs of emails that were exchanged between the one-time couple.
In one, Lazenby told her: "If I have to choose between booze or the kids, no contest. Bring them home please."
In a later message, he asked: "Can I see the kids today, it is so important to me, I am dying."
Lazenby added, "Of course I need professional help."
In another, he wrote: "How did it get to this so fast? You must realise I was asleep on the booze or otherwise I would not have let the loves of my life get lost. I will give up drinking altogether."