Ego Out Of Control! Farrah Abraham Slams Kim Kardashian: 'I'm Smarter & Outshine Her'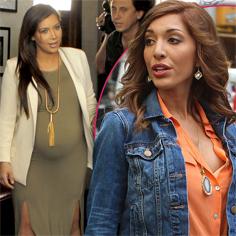 Who knew that getting pregnant as a teenager and making a porn tape were the credentials for being a shining star?
That's apparently what Teen Mom star Farrah Abraham believes, demonstrating in a new interview that her ego knows no boundaries.
The Back Door Teen Mom says in a recent interview that she hates being compared to Kim Kardashian because she "outshines" her in every aspect of life and is smarter. And while Kim may not qualify for Hillary Clinton-like status as a role model, Farrah's comments still will leave many surprised at her self perception.
Article continues below advertisement
"I definitely feel it's an unfair comparison," Farrah,22, tells New Jersey's Metropolis Nights magazine about comparisons to Kim, 32. "I have been very successful with other things in my life besides just being a reality TV star."
Yes, she said that.
Farrah, mom to 4-year-old Sophie, said she "outshines" Kim in every aspect of life and even takes a shot at the reality star for being divorced.
"I have books and other things going on in my life that outshine Kim Kardashian," she says. "I feel I just outshine her when it comes to both our personal and professional lives. That's why I don't like being compared to her."
"We're two really different people," Farrah continues. "I don't for see myself getting married more than once. I don't see myself making the same choices that she has made. Good or bad, I just feel I'm going to be a smarter person."
Farrah adds, "I don't want to be negative, we're just different people."
But Farrah has more "negative" comments to share about other people who aren't on her favorite's list, especially James Deen, her sex tape partner in "Backdoor Teen Mom."
Article continues below advertisement
"When it comes to sexual performance I definitely need more than that," she states. "He wasn't as good as it may seem in the video."
Farrah also says that despite how she is made to look in the media, she isn't a porn-star.
"I am not all about sex!" she says. "That is what people really think because that's all people want to talk to me about."
Farrah concludes, "I'm more focused on life than my crotch."
We're glad she cleared that up, especially after her raunchy interview this week with Howard Stern where she said she watches her own sex tape while, um, making herself happy.