Exclusive
Woman Who Went On Racist Rant At Dunkin' Donuts Employee Failed As Model, See The Video Of Her With Ludacris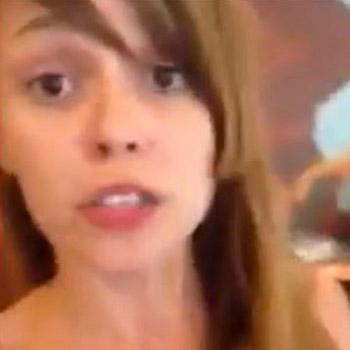 The woman who went on a vile, profanity-laced racist rant at a Dunkin' Donuts employee tried and failed to make it as a model, RadarOnline has learned exclusively.
Taylor Chapman's self-videotaped berating of an employee for not receiving a receipt has gone viral and turned her into one of the day's most reviled person.
"So I hope you're happy with your little f***ing sand n***er self," she says at one point. "Cause I'm about to nuke your whole f***ing planet from Mars. You think ya'll are tough big fat Arabs bombin' the Trade Center? I'll show you tough."
Article continues below advertisement
Show them tough? Not so much. Looney tunes? For sure.
Perhaps Chapman's frustration stems from never making it as a model. RadarOnline.com excavated a 2009 video clip, which you can watch below, featuring Ludacris promoting his new drink, Conjure cognac in South Florida.
As the singer is surrounded for a public relations event in a liquor store, a brunette with a microphone begins questioning him.
"How would u sell this product in 10 seconds because I haven't tried it yet and I don't know if I want to," she asks meekly and awkwardly.
Take a good look because that's Taylor Chapman doing a pseudo flirt with Ludacris!
Far from her bombastic Dunkin' Donuts performance, Chapman is reserved and at times barely understandable. And she does not call Ludacris the 'n' word or tell him he's "under video surveillance."
She does try to flirt with him, however, in an uncomfortable way.
After Ludacris tells her he would sell Conjure as "sex in a bottle," Chapman asks "will you try it with me?"
Article continues below advertisement
Meanwhile as hatred for her actions spread across the Web, Chapman took down her Facebook page and made herself scarce.
One person who claims to know her posted on a Web site that she was "into modeling and shooting promo videos shortly after moving to south florida."
That person also said Chapman alienated her girlfriends but that at one time she had been a "sweet little awkward girl next door."
RadarOnline.com could not verify the person knows Chapman but the person referenced the obscure video of Chapman promoting Ludacris' cognac.
"There's a story about her (Chapman) coming back home to hang with friends in a cabin retreat," the person wrote. "She walked straight in, bitched about the place being dirty and in the woods (not close enough to a city!), and then claiming the owner of the challet's master suite and promptly throwing all of their belonging out of a dresser in order to place hers in there."
radar_embed service=youtube src="https://www.youtube.com/embed/o52t-hvPOLw" width="420" height="315"
Warning: Strong Language
youtube