Hello, You Fool, I Love You: Crazy Saudi Man Takes The ULTIMATE Joy Ride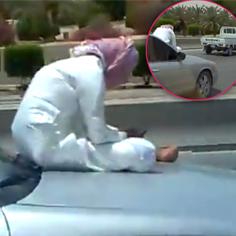 Ready for the craziest highway video you have seen all day?
No, it does not involved Amanda Bynes getting behind the wheel on a suspended drivers license or even Lindsay Lohan switching places with her assistant in the driver's seat of her Porsche.
This new video comes all the way from Saudi Arabia where one motorist captured an insane man who was basically seeking out his death wish.
While heading from Riyadh to Mecca, the passing motorist observed a Saudi man sitting on top of car texting on his phone - and the car was traveling more than 56 miles per hour!
Article continues below advertisement
The passing motorist captured the whole stunt on video. In one scene, the crazy man even leans back on the windshield and kicks up his feet while he types away on his phone.
Now that one they definitely didn't teach in Drivers' Ed!
youtube