Exclusive
Charlie Sheen Went From Lust To Hate With Selma Blair -- Why She REALLY Got Fired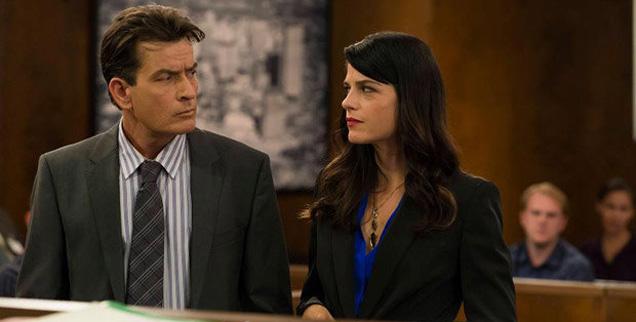 The sudden firing of Selma Blair from Charlie Sheen's Anger Management show was the culmination of a long and complicated relationship between the costars ­ a relationship that turned from lust to hate.
Most reports have indicated that Blair complained to execs behind Sheen's back that the actor was ridiculously late for rehearsals and other show events, prompting Sheen to issue an ultimatum: either she goes or I go.
Article continues below advertisement
But RadarOnline has learned exclusively that Blair's complaints about Charlie were to someone outside of the show, and a chain of gossip brought the information back to Sheen and led to her firing.
What's more, Sheen had been highly attracted to his costar but that lust turned to hatred when he was told she was privately criticizing him.
"He loved her in the movie Cruel Intentions and eventually got introduced to her," a source familiar with their relationship told Radar exclusively. "They grew very close. When it came time to cast for his new show he wanted her.
"How close were they? Let's just say he was crazy about her. Call it lust at the very least.
"As the show began Sheen was still highly attracted to Selma. Call it flirtatious or whatever you want, but his feelings were obvious. He thought there was chemistry."
But Sheen and Blair had mutual friends and one of those friends sabotaged her with him, the source tells Radar.
"Charlie has reverted to his usual behavior on the Anger Management set," the source revealed. "He is late, sometimes he is hours late. The whole cast is bothered by it but he¹s the star and its his show.
Article continues below advertisement
"There have even been times when he sits in the car for approximately an hour outside of the studio making everyone wait."
Blair was upset and so were other people on the show. But, the source insists, she did NOT complain to execs.
"You don't talk behind someone's back when you work with them. With Charlie if you have an issue you go directly to him," the source said.
Blair, however, complained about Charlie to a close friend and divulged details of his behavior. She had no idea her words would get back to Sheen but her friend told someone who had a connection to Sheen.
"Charlie was furious when it got back to him," the source told Radar. "It didn't happen all at once. When he first heard about it, things changed on the show. Suddenly his character was no longer sleeping with her character."
Sheen's character is an anger management therapist and Blair played his therapist and friends with benefits girlfriend. This season the couple no longer had a romance.
"That wasn't an accident," the source said. "Charlie was hearing things."
Article continues below advertisement
As Blair continued complaining privately, Sheen erupted. He demanded that she had to go.
"Selma didn't trash Charlie on the set," the source said. "Everyone on the show was ticked off at his behavior but no one complained to the producers because they knew he would fire them.
"But her private comments got back to him and he went off. He demanded she be fired. It's his show and she was let go."
And yes, Charlie is back to the behavior that created the final showdown with Chuck Lorre on Two and a Half Men.
"He's late all the day. He makes people wait. He parties," the source said. "Nothing has changed.
"With Selma he went from loving her to hating her. And once he turns, that's it. She was done."