Meet New Lesbian Charice's Secret Girlfriend!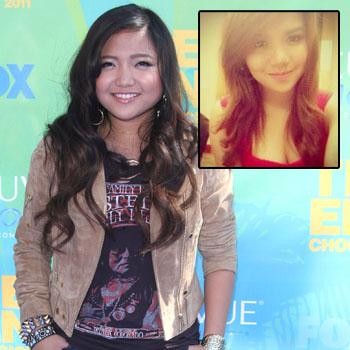 Powerhouse Filipina singer Charice has only been out of the closet for a matter of hours, but she's already off the market: For months, she has been in an intimate, secret relationship with Alyssa Quijano, a member of the Filipina girl group AKA Jam.
Proud to wear a promise ring given to her by the Glee star, Alyssa was by Charice's side during her media appearances on Monday.
"She's like my everything," Charice said, explaining that they had known each other since childhood, but only crossed paths again last summer on The X Factor: Philippines, last year, where Charice was a judge and Alyssa, a contestant.
Article continues below advertisement
By October, Charice tweeted, "I love you, Ayie.
Alyssa, Charice said, is now so much more than just a girlfriend; rather, like a sister and best friend combined. To prove her devotion, she recently got a tattoo on her chestreads, "Let's start with forever." (In the "The Twilight Saga: Breaking Dawn Part I," Edward Cullen (Rob Pattinson) says that to Bella Swan (Kristen Stewart) in her wedding toast.)
At last, the two can live without fear of their relationship being exposed. "Now, I feel free," Charice said in an interview on Sunday with Boy Abunda. "I can go out of the house without fear and be certain that I'm not stepping on anybody's toes."
Unfortunately, Charice's own grandmother has made public appeals for her to her old, super-girly style.
She and Alyssa were subsequently at the center of scandal in the Philippines in mid-May, when they were rumored to have eloped, and their families made impassioned pleas to the media for their safe, unmarried, return.