Exclusive
Inside Britney Spear's Louisiana Vacation — Locals Shocked At Surprise On-Stage Appearance!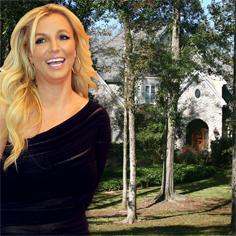 Britney Spears and boyfriend David Lucado looked like a happy couple vacationing together in Rancho Palos Verdes over Memorial Day weekend, but this weekend she ditched him for a trip back down south -- and RadarOnline.com has the details of her down-home weekend with family.
Britney headed back to her hometown of Kentwood, Louisiana, to watch her sister Jamie Lynn Spears' daughter Maddie perform in a dance recital for Lemoine Academy of Dance, in Hammond, LA, on Saturday.
Article continues below advertisement
Happily smiling in the audience, she was spotted singing along when one student performed a dance to a cover of her hit, Toxic, according to dancer Matthias Albrecht. She spent some time backstage hanging with the dancers and at the end of the show, she even took to the stage to present one of the teachers with a bouquet of flowers.
Later that day, she was spotted getting a workout in at North Cypress Gym, also in Hammond.
"She was running on a treadmill all by herself, like any other person," an eyewitness tells RadarOnline.com.
And it looked like her work was paying off. Says the source, "She looked hotter in person! Everyone was excited to see her."
By Sunday, she was headed back out of town, spotted at the New Orleans airport with Jamie Lynn, Maddie and Jamie Lynn's fiance Jamie Watson.
Brit's been spending more and more time down South in recent months: Back in March, she was spotted shopping at Walmart.