Exclusive
Brandi Glanville Turned Down For Sex After Talk Show Host Refuses To Have One Night Stand With Her!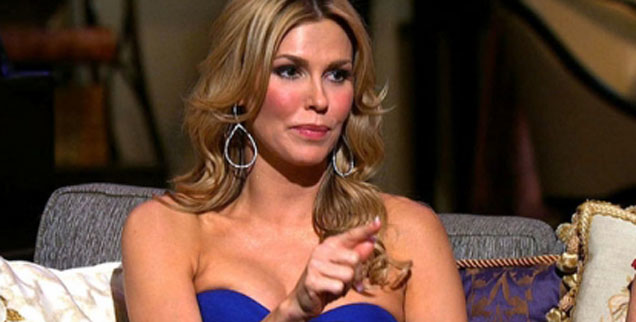 Real Housewives of Beverly Hills hottie cast member Brandi Glanville was turned down for a one night stand with talk show host John Kerwin after a booze-filled date, RadarOnline.com has learned exclusively.
Glanville appeared on The John Kerwin Show last December and according to sources, asked him to go out with her on a date.
"Brandi and John went to the Vibratto Jazz and Grill on December 1. Brandi looked hot and wore a tight black dress and a thong. She drank a lot of white wine, and both got drunk, but neither drove back to her house," the insider told Radar.
Article continues below advertisement
"Things proceeded to get crazy out of control very quickly. Brandi began kissing John in a very aggressive manor, and bit his neck, which drew blood! She made it clear that she wanted to have sex with John."
But according to the source — John quickly put on the brakes!
"John turned her down because he isn't the type of guy to have a one night stand. He has too much respect for women to do that. Being too drunk to drive home, Brandi banished John to the guest room," the source said.
"When he woke up the next morning, and got ready to leave, she gave him a high five. It was the last time he ever saw or spoke to her again. It was one of the most bizarre dates John ever had."
Glanville's two young sons with Eddie Cibrian were with their dad, and Kerwin never saw them.
The award winning late night talk show host found out after his date with Brandi that she has a sexually transmitted disease, which she revealed in her book, Drinking & Tweeting: And Other Brandi Blunders. In the memoir, Brandi alleges she got HPV from ex-hubby, Eddie.
"Brandi never told John she has the highly contagious Human Papillomavirus! He really feels like he dodged a bullet. John really liked Brandi and felt sorry for her after being so aggressive with him sexually," the source told Radar.
"She doesn't have to be like that. He thought she was used to being objectified by men, but she is really smart and funny and doesn't need to do that."