Baseball Biogenesis Drug Clinic Scandal Spreading To Other Sports, Star Athletes, As Whistleblower Hires Top Attorney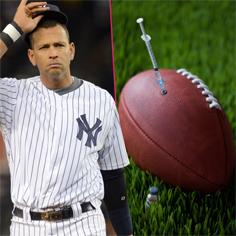 The Biogenesis drug scandal which has ensnared some of major league baseball's top players is spreading to other sports now that the whistleblower has hired a top attorney, RadarOnline.com is reporting exclusively.
Ray Rafool, a powerhouse Florida attorney, is now representing Porter Fischer, the whistleblower who released records showing that top professional athletes, mainly baseball players, were obtaining banned performance enhancing drugs from the South Florida clinic.
Article continues below advertisement
New York Yankees slugger Alex Rodriguez and a host of other top baseball talent is caught up in the scandal and major league baseball has filed a lawsuit against Anthony Bosch, director of the Biogenesis clinic, while investigating the players allegedly involved.
Now RadarOnline.com has learned the scandal is growing bigger. "This could be the biggest scandal in pro sports history by the time everything comes out," a source close to the situation told RadarOnline.com exclusively.
"The top paid athletes in baseball, soccer, tennis, football and other sports will be exposed as clients of the performance enhancing drug scandal," the source added.
That's a huge statement coming in the middle of major league baseball's investigation into its top players and the written records that indicate stars again have plunged the sport into scandal.
The source, extremely close to the situation, promises RadarOnline.com that much, much more information will be released on top athletes in almost every pro sport.
Article continues below advertisement
Fischer secretly supplied the clinic's records to the Miami New Times, showing top athletes receiving banned treatment including anti-aging drugs, human growth hormones, steroids and more.
After supplying the records, Fischer says his car was broken into and more copies of records stolen. He also has met with major league baseball officials several times and claims they have alternately offered him money to cooperate and vaguely threatened him with legal action is he did not.
With attorney Rafool involved in the case representing the whistleblower Fischer, the stake are clearly higher. Widely respected as a top attorney and litigator, Rafool has been involved in high-profile celebrity cases, including winning a strong settlement for Linda Hogan in her divorce from wrestling legend Hulk Hogan.
He also won a large settlement for the ex romantic partner of tennis great Martina Navritilova.
As baseball unwinds its scandal, Fischer appears to be a central figure as a former investor in Biogenesis and someone with access to all the inside information.