Aviva Drescher Defends Man Claiming He Was Fired For Being HIV Positive: 'This Is Absolutely Disgusting'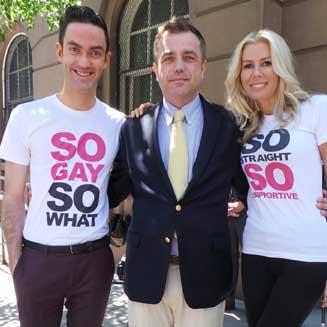 Avivia Drescher is back in the thick of the drama filming The Real Housewives of New York City but she took time out from wine fueled fights to speak out on behalf of a man who claims he was fired for being HIV positive and RadarOnline.com has the exclusive video where she boldly says his situation is "unacceptable and heinous" and "absolutely disgusting."
Wearing her "So Gay So What" t-shirt Aviva, who is the face of the National Equality Campaign, defended Jeffrey Villacampa, a New York City man who said he was fired from his job as the finance manager at Bayside Volkswagen when he told his boss he was HIV positive.
Article continues below advertisement
"What is happening to Jeffery is unacceptable and heinous," Aviva said at the Lesbian, Gay, Bisexual & Transgender Community Center in New York City.
"No one should be discriminated again for their religion, their sexuality, political points of view or physical disability.
"It is absolutely disgusting."
Usually known for getting involved in intense battles with her co-stars Sonja Morgan and Ramona Singer, Aviva passionately spoke on behalf of Jeffrey and said that his firing will have a drastic impact on his life.
"This man Jeffery is a beautiful, skilled wonderful man. Who is using tremendous courage today and coming out with a story that takes a lot of guts. He needs medication every month. He needs special care to keep healthy for the next 30 40 years of his life. And that has been hindered by the termination of his employment.
"He cannot get insurance now and pay for all of his medication which allows HIV infected people to live long healthy lives. Just like diabetes or other diseases that we all live with."
Villacampa is suing Bayside Volkswagen, claiming wrongful termination and discrimination. The company has declined to comment on the case.
Check out Aviva's plea for Jeffrey Villacampa on RadarOnline.com.
youtube