Zoe Saldana Poses Naked In Allure magazine, Says She Might 'End Up With A Woman'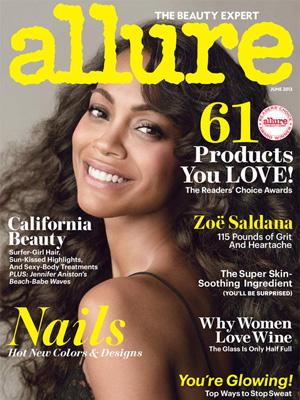 What's next for Zoe Saldana after dating Hollywood hunk Bradley Cooper? Possibly dating women!
The Star Trek Into Darkness beauty, 34, strips down in the June issue of Allure magazine -- posing topless in one photo and naked in another-- and in addition to baring her body, she also bares her soul and says she may end up with a woman.
Saldana -- whose romance with the Silver Linings Playbook star, 38, ended earlier this year – appears to be done dating actors, telling the magazine, "Been there, done that, got the T-shirt."
Article continues below advertisement
And in a surprisingly revelation, Saldana suggests she might be done with men in general! "I might end up with a woman raising my children," she says of her apparent fluid sexuality. "That's how androgynous I am."
She also says she's a woman who knows what she wants.
"If I have something good in front of me, it doesn't matter if it's a person or a pair of shoes, I'm not going to test something else," she says. "It's insecure and it's immature."
To read more of Saldana's interview, check out the new issue of Allure on sale Tuesday, May 21.