They Could Have Been Dentists! Will Smith Says It's 'Insane' To Think He Pushed Kids Jaden & Willow Into Show Business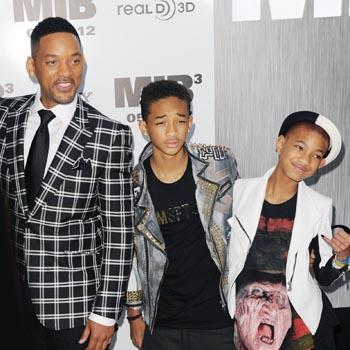 Article continues below advertisement
"It may seem like we have pushed our kids into the business, but that is absolutely insane," Smith insists. "I would never, ever, push somebody to have their face on a poster that's going be everywhere in the world."
Smith adds that it was Jaden, 14, who made the "informed" decision to pursue a career in entertainment, but that he is happy to help his son by offering up all his Hollywood connections.
"He is making a choice from the informed," he explains. "It's less scary to me than if he wanted to be a dentist in that I couldn't help with what he'd chosen. I have relationships with some of the biggest filmmakers and actors and producers on Earth. So I can be a huge help."
Will admits that he tried to talk his daughter Willow, 12, into starring in Annie alongside Beyonce, but that she decided that she wanted to take a hiatus from performing.
MORE ON:
Jada Pinkett Smith
Article continues below advertisement
"Willow chose singing and then un-chose it," he continued. "She said, 'Daddy, I want to go to school with my friends during the week, and I want to hang out with them on the weekends.' At the peak of Whip My Hair, she's like, 'Daddy, I'm done.'
"I was like, 'Wow, wow, wow. No, baby, I got Annie the upcoming movie remake, co-produced by Jay-Z, you know. It'll be New York, you'll be with Beyoncé. You can bring your friends.' And she said, 'Daddy, I got a better idea. How about I just be 12?' At the end of the day, it has to be their choice."
And while many young stars struggle with fame, Jaden admits that he doesn't mind being in the public eye.
"I think it's fun," he admits about being famous, "except when people make up stuff about you. Then it's not so much fun. But besides that, I enjoy it."