Exclusive
Ex-Wife Of Rolling Stones' Rocker Ronnie Wood Reveals How The Pair Once Smuggled 'Smack' Into The Bahamas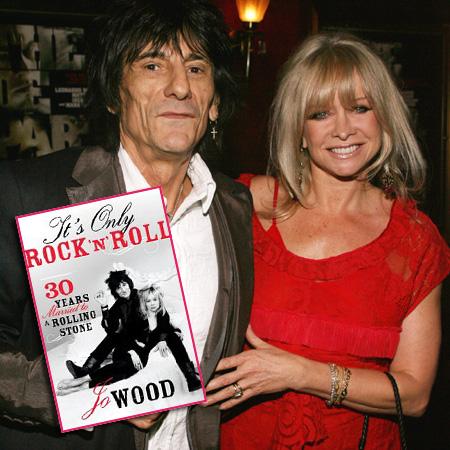 It was a meeting of two rock legends -- Ronnie Wood, the guitarist of The Rolling Stones, and The Beatles drummer, Ringo Starr. The year was 1978 and the pair had been invited to the Bahamas to help record an album for an aspiring Colombian musician who had another job, too. He was a drugs lord.
In her candid tell-all book, It's Only Rock 'N' Roll: 30 Years Married To A Rolling Stone, Ronnie Wood's ex-wife Jo recounted how the "sharp-suited" dealer named Victor -- "one of the small army of pharmaceutical Stones hangers-on" -- had them smuggle cigarettes laced with heroin into the Bahamas for their vacation.
Article continues below advertisement
On the flight, "Victor was acting like a mad man as he was smoking 'dirty cigarettes' or DCs — little roll-ups containing smack — which he was intending to take in to the Bahamas."
Ever one to indulge, charismatic Ronnie, Jo's fledgling boyfriend, snuck off the plane's bathroom, Jo remembered.
"I didn't touch them, as they had the most revolting smell — if I think about it even now I gag — but Ronnie went into the bathroom for a sneaky puff. Shortly after he stumbled back to his seat, a flight attendant came over and crouched next to me.
"Excuse me," she said to Ronnie, "but I think your friend has left this in the toilet."
Said Jo: "She was holding out the bag of DCs. Ronnie must have got so stoned he'd left it in there."
"Oh, God, I'm sorry," he said. "Thank you ever so much. I'll get rid of them."
Recalled Jo, "She smiled warmly. 'Not to worry. Would you like another drink?' Can you imagine that happening on a flight today?"
As the plane began its descent into Nassau, Jo said Victor "dumped the bag" of drugs in her lap.
Article continues below advertisement
"As he was a drugs trafficker, I assumed that Victor would already have a plan in place to smuggle his stash through Customs, but as we started our descent he suddenly dumped the bag in my lap. It turned out that I was the plan," she wrote in the memoir, obtained by RadarOnline.com before its release on May 21.
"You are taking this in your bag," he said.
She responded: "What? No way!"
"But Ronnie thought it would be wiser to humor our host, so in the end we got a carton of duty-free cigarettes, removed all the cigarettes from the middle packet, stuffed Victor's stash in there, then carefully packed it up again to look like new.
"Of course, when we got to Customs they immediately zeroed in on me; I must have been giving off guilty vibes. As they went through my bag, I offered up a silent prayer of thanks that we hadn't hidden the stash in there. Then the inspector held up the duty-free bag containing the carton of cigarettes. 'Is this yours?' he asked me.
'No, I said, pointing at Victor. 'They're his!' I was damned if I was going to risk life in prison for him.
"As Victor scowled at me, the inspector took out one packet and carefully checked inside, but to everyone's immense relief it wasn't the doctored one and we were finally waved through."
As for his album, Jo said she couldn't recall it ever getting made!
"I think he just wanted the kudos of getting a Rolling Stone and a Beatle into the studio together — and soon after our holiday he was packed off to jail for many, many years, busted by his own dad who had never approved of his son's career path," she added.