Proud RHOBH Mom! Kim Richards Tweets Touching Photos Of Daughter Kimberly On Prom Night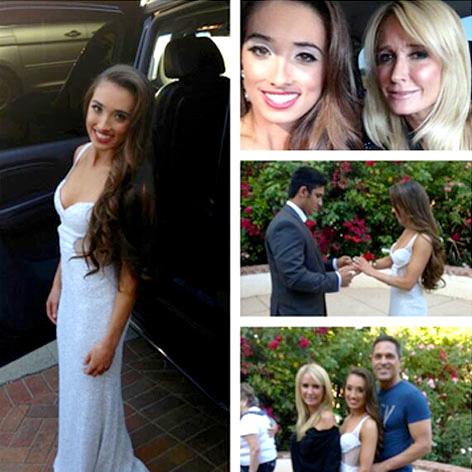 The Real Housewives of Beverly Hills star Kim Richards tweeted touching photos of a moment all mothers can relate to, especially on Mother's Day weekend -- her daughter Kimberly on prom night!
"My Beautiful Girl..@KimberlyJ95 on Senior prom eve, a vision I will never forget!! Such a special day! I love u!" Kim tweeted on Friday night.
Kimberly is shown in the photos wearing a long white dress, her long dark brown hair down, and holding hands with her prom date. She looked so glamorous that Richards' sister, Kyle Richards, couldn't contain herself. Kyle responded to sister Kim's Tweet about her daughter (and Kyle's niece), "gorgeoussss" with three heart symbols at the end.
Article continues below advertisement
Taylor Armstrong's Shocking Black Eye Photos
Kimberly Jackson, 17, is RHOBH star Kim's namesake and her fourth and youngest child. The pretty teen's dad is Richards' former boyfriend John Jackson, an aircraft-parts supplier. Richards is also mom to daughter Brooke Brinson, by her first husband, supermarket heir G. Monty Brinson, and daughter Whitney and son Chad Davis, by her second ex-husband, oil heir Gregg Davis.
Kim, 48, a self-admitted alcoholic who has been to rehab three times, admitted after her last rehab stint in December 2011 that she had to "get reconnected with my kids, and that's been a huge thing for me."
But now it's all joyous times for the proud mom -- and after reading responses from friends and her sister to the prom pictures on Mother's Day weekend, Kim gushed, "Reading all your messages....You all mean SOOO much to me! thank you for all your kind words and for being a part of our lives! XOXO Kim"