Rainn Wilson's Twitter Rage After Missing Flight: 'I'm Going To Take A D**p On A @USAirways Plane's Windshield'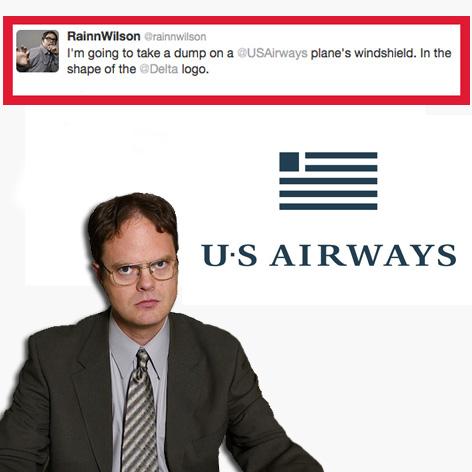 Don't mess with Rainn Wilson!
The Office star and six of his castmates, including John Krasinski, were on their way from Los Angeles to Scranton Friday in advance of a day-long wrap party for their comedy that is set in the Pennsylvania city. But they missed their connecting flight in Philadelphia when it departed 10 minutes early!
Wilson wasn't pleased but his unhappiness with the situation started reasonably enough.
Article continues below advertisement
"So @USAirways just screwed me & half the cast of The Office. Conctng flight left BEFORE departure time. Sorry Scranton won't see u til tom," Wilson wrote on his Twitter page.
But the situation escalated when Wilson learned there wasn't another flight for several hours, and the decision was made to drive the 130 miles to Scranton.
"We're being forced to rent cars and drive to Scranton from Philly. Does the CEO of @USAirways want to join us? I will fondle him angrily.
"The plane was a 20 seater, missing 7 people who had obviously just landed & it leaves 10 minutes EARLY! @USAirways," he went on.
But Wilson REALLY got the airline's attention when he hit the send button on....16h
"I'm going to take a dump on a @USAirways plane's windshield. In the shape of the @Delta logo."
Fortunately, a little food helped settle Wilson down.
"Had an AMZING dinner in Allentown. The Bay Leaf was awesome. Thanks," he tweeted.
For its part, US Airways execs later apologized.
A parade with the cast, including marching bands and the mayor, is scheduled for 2 pm Saturday in Scranton.
Thousands of locals are expected to turn out to say farewell to their favorite show that ends its nine season run on NBC May 16.