Nude Photo Of 'Bachelor Pad' Stars Holly Durst & Blake Julian Skinny-Dipping During Honeymoon Offered For Sale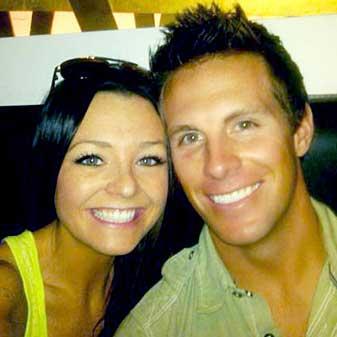 A revealing photo could soon hit the internet showing Bachelor Pad stars Holly Durst and Blake Julian stripped off and on a Saint Lucia beach during a late-night skinning-dipping session.
RadarOnline.com has learned the image, from the couple's 2012 honeymoon, is being shopped to several media outlets.
In the photograph, which leaves little to the imagination, Durst has a beaming smile as she stands in front of of Julian, her left hand covering up her private parts! Julian's arms are specifically positioned to obstruct a clear view of his wife's breasts.
Article continues below advertisement
"The photo was taken after a lot of drinks and Holly and Blake built up enough courage to go skinny-dipping in the ocean," the source of the image told RadarOnline.com.
EXCLUSIVE BABY PHOTOS: Bachelor Pad's Kiptyn & Tenley — Before They Were Famous
The pair, who shocked many on the season two finale of Bachelor Pad, married in 2012 before approximately 115 guests in in South Carolina, including former small-screen costars Erica Rose, Ella Nolan, Justin Rego and West Lee.