Exclusive
Mystery Deepens Over Mariah Carey Lip Synch Scandal: Key Clues Uncovered From Video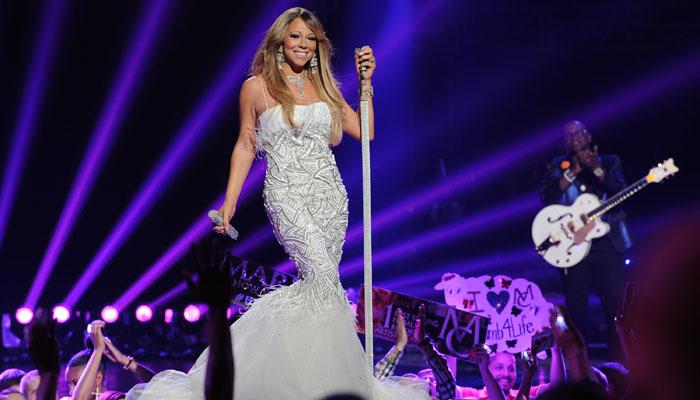 Mariah Carey's stellar performance on the American Idol finale Thursday night sparked controversy that the pop superstar was lip synching, and RadarOnline.com has uncovered some key clues from the video through an exclusive interview with a Hollywood music producer and audio engineer.
Mimi took the stage and wowed the live audience with a medley of her most famous hits including Hero, Make it Happen, My All, Vision of Love, We Belong Together and her new single Beautiful, but her spot-on performance was quickly questioned.
Article continues below advertisement
"It's a tough call. At around 2:15 to 2:21 in the clip she appears to be out of sync with the audio. That's the one spot I think could be the giveaway that she's lip syncing," the producer, who wishes to remain anonymous because of his career, exclusively told RadarOnline.com after studying Mariah's performance.
"However, sometimes a slight delay in the audio sync to the video can also make someone look like they are lip syncing when they are not. It could just be a bad edit."
But fans on Twitter were quick to accuse the 43-year-old of not giving a live performance.
"Disappointed in @MariahCarey and her lip syncing on the show and as a JUDGE! More disappointed that the @AmericanIdol show allowed it!" one tweeter wrote.
"Mariah Carey was lip syncing last night and still sounded horrible…how TF?"
The insider explains to RadarOnline.com that it's hard to make a definitive statement as to whether or not she was lip synching — but if she was, she's really good at it!
Article continues below advertisement
"Her performance is so complex that I would think it would be hard to not make a lot more mistakes and it would be more obvious if she was lip syncing," the professional said.
"But maybe she's just really good at that as well as singing."
According to the Hollywood pro, Mariah's reputation for being a flawless performer with impeccable vocals makes the lip synching scandal a tough one to nail down.
"The sound of her vocal is also really good and almost too perfectly executed...but she is Mariah Carey, so again, it's a tough call," they told RadarOnline.com.
"It's hard for me to be sure one way or another with this one."
A rep for the singer told Entertainment Tonight, "No, she did not lip-sync! She sang 3x and even sang additional songs for fans in between commercials."
Where do you stand on this after watching the video below — was Mariah lip synching or did she pull off a stellar performance? Sound off below…
radar_embed service=youtube src="https://www.youtube.com/embed/GwoIvKWPV_o" width="560" height="315"