Madonna Snubs Gwyneth! Ignored Her Former BFF For Beyonce At Met Gala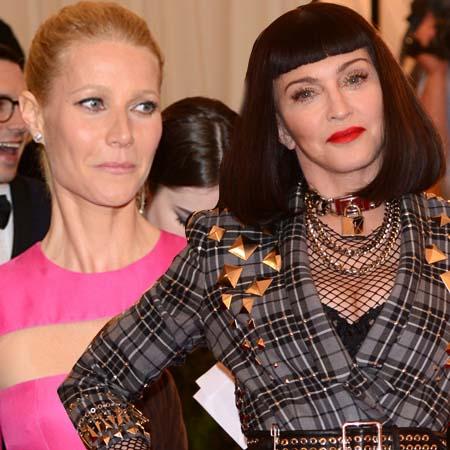 Gwyneth Paltrow has a rocking body, a loving husband, a global empire, and she has one of the biggest enemies in the world – Madonna.
The former best friends had a major falling out a few years ago, and Madonna's cold actions at the Met Gala proved that they still aren't on speaking terms with each other.
Madge, 54, snub Gwynnie at the A-list gala, but spoke effusively to Beyonce, with whom the Country Strong star has formed a tight friendship lately.
Article continues below advertisement
"She chatted with Beyonce for most of the evening and didn't even glance at Gwyneth," a source told Us Weekly about Madonna icing her out at the party.
"Everyone talked about it."
Their feud began in 2009 when Gwyneth, 40, decided she'd had enough of the Material Girl.
"Madonna would sh*t on her, over and over," a Paltrow source told the magazine.
Fast forward to now, and another insider says that Madonna is mad about the snub and isn't above getting a little revenge.
"She feels Gwyneth abandoned her. Now Madonna will do anything to make her suffer."
It sure seems like Madonna's mean girl act worked, because after the Met Gala Gwyneth said she had a terrible time.
"It was so un-fun. I did not enjoy it at all," she told USA Today.