Latin Pop Star Paulina Rubio Accused of Beating Paparazzo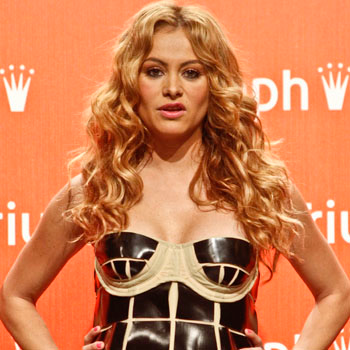 A Houston man has filed a lawsuit against Latin pop singer Paulina Rubio, claiming she assaulted him and stole his camera at George Bush Intercontinental Airport last month.
In the lawsuit filed May 6, photojournalist Hector Vela said that he and Rubio were aboard the same United Airlines flight from Miami and after de-boarding, he approached Rubio and requested a photograph.
Rubio "became irritated, abusive and violent" and approached Vela with her two companions and "ripped the camera away", the complaint states.
Article continues below advertisement
The lawsuit alleges she kicked him in the groin area with her knee!
"I saw her flying coach and I asked to take her picture," Vela said in a statement, to RadarOnline.com.
'After I took her photograph, she approached me yelling obscenities and told me the camera was hers. I offered to delete the photograph but she kneed me in my private area and took my camera. She handed it to a male companion and they left on a small airport shuttle."
Iván Capellán, Vela's attorney, added: "Rubio¹s actions resulted in physical harm (assault) and economic loss (camera theft). Our client's camera, his main tool for work, was taken away along with the intellectual property contained within resulting in unaccountable amounts of lost profit."
Vela is seeking $75,000 in damages.
This is not the first time Rubio has been accused of assault: her ex-personal assistant, Felipe Restrepo Betancur, filed a lawsuit in 2012 alleging the singer punched, kicked and even slapped him when he booked her in coach for a flight and not first class.