Exclusive
Kim Kardashian Taking Newborn Baby On Tour With Kanye West Is Selfish, Says Family Member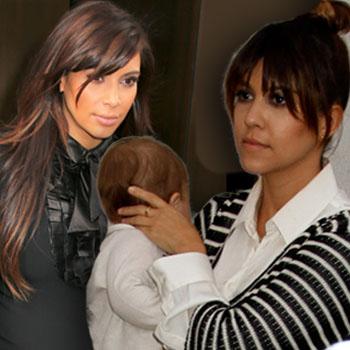 Kim Kardashian hasn't even given birth to Kanye West's baby yet and her decision to take the newborn on her rapper boyfriend's international tour has already angered older sister Kourtney because the mother of two thinks it's selfish move, and not in the best interest of the infant, RadarOnline.com is exclusively reporting.
Kanye is scheduled to go on tour this fall, just months after Kim gives birth to their first child. It was Kim's decision to bring their newborn baby on tour.
Article continues below advertisement
The decision has "seriously irked Kourtney. She thinks it's very selfish of Kim to take the baby on tour with Kanye. Babies need stability, and a schedule, which will be very hard to do when changing time zones and hotel rooms," a source told RadarOnline.com exclusively.
"It's also potentially dangerous to the baby's health because of their developing immune systems. The drama between the sisters is being filmed and documented for the upcoming season of Keeping Up With The Kardashians. Kourtney just doesn't think Kim grasps the huge change that will happen once the baby is born."
"Kourtney loves Kim, and even though she disagrees with some of the decisions she is making, they will get through it."