Kanye West Sends Mystery Message! Is It Kim Kardashian's Due Date?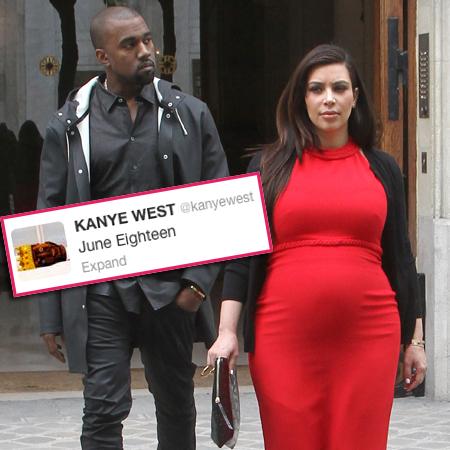 The mystery is growing as fast as Kim Kardashian's burgeoning belly.
Kanye West was the first to announce that she was having his baby at his concert, and the cryptic tweet that he sent on Thursday fueled speculation that he may have just revealed her due date.
The rapper deleted all of his previous Tweets and posted just "June Eighteen," which caused an immediate frenzy that this could either be Kim's due date or the drop date for his next album.
Article continues below advertisement
Kanye's note to his 9.5 million followers was quickly picked up, and while one rap journalist claimed it was the release date of his next album, that report was promptly retracted.
A source close to the couple told RadarOnline.com that they believe it is likely the due date for the baby.
Kim's rep could not be reached for comment on her due date, but as RadarOnline.com previously reported, the couple have been tight lipped about all things baby and wedding related recently.
Do you think June 18 is Kim's due date or the date Kanye's new album will drop? Tell us in comments.