Katherine Russell Mystery Grows! What Did She Know And When Did She Know It, Authorities Are Asking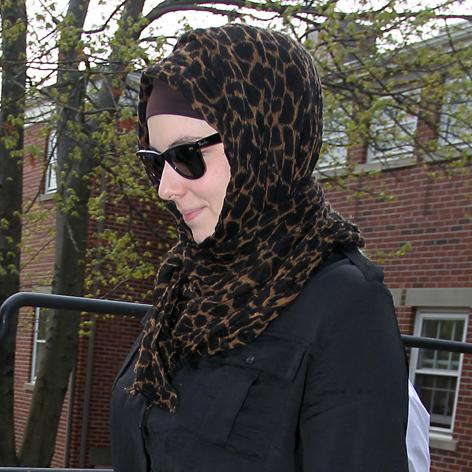 Her attorney calls her Katy and insists Katherine Russell knew absolutely nothing about what her husband and his brother planned on doing at the Boston Marathon.
But a growing number of questions are being raised based on the circumstances that surrounded Tamerlan Tsarnaev's widow in the days and weeks before his death.
Investigators are trying "to figure out if she has knowledge of how he became radicalized, who he spoke to, how he may have learned to make the bomb and whether there are others out there who share his views," explains Ron Sullivan, director of Harvard's Criminal Justice Institute.
Article continues below advertisement
Now RadarOnline.com is taking a look at the most compelling issues around the bomber's widow.
* A copy of Inspire, the English language al Qaeda magazine, was found on her computer, causing investigators to "sharpen their focus" on Russell, The Washington Post reported.
* Russell's surviving brother-in-law Dzhokhar Tsarnaev has told authorities they built their bombs in the small apartment they shared with Katherine and the daughter she had with Tamerlan.
MORE ON:
Tamerlan Tsarnaev
* The Tsarnaev brothers brought the three pressure cookers they purchased to encase their home-made bombs and $200 worth of fireworks back to the cramped living quarters.
* Residue from the bomb components was found in the very kitchen sink and bathtub that Russell used.
* Russell and Tamerlan spoke within hours of the FBI releasing his and Dzhokhar's photos as the suspected bombers, but she did not notify authorities as to their identities or their whereabouts.
* She sent a text to Tamerlan after his photo was released by the FBI, according to The Daily Beast but still did not notify authorities she knew his identity.
The Feds are continuing to track Russell closely, because, says Roger Williams University law professor David Zlotnick, himself a former federal prosecutor, because "it seems to me they don't believe her yet."