Kim Kardashian's Sisters And Mom Kris Jenner Growing 'Increasingly Concerned' About How 'Self-Absorbed' Kanye West Treats Her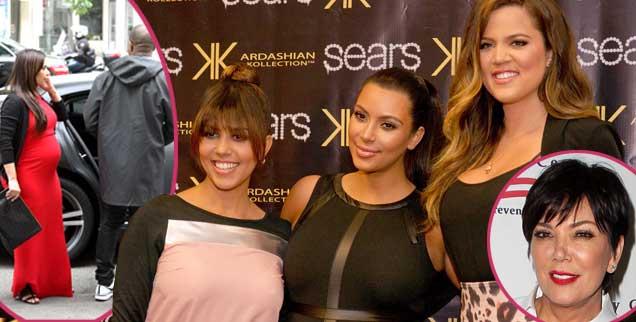 Kim Kardashian and Kanye West expect their first child soon, but there could be big trouble ahead as the reality beauty's family doesn't approve of how the singer treats her, a source close to the Kardashian clan told RadarOnline.com.
Hot on the heels of Kanye's latest meltdown, when he walked into a street sign and then went on an expletive-heavy tirade against photographers in front of pregnant Kim, the source is speaking out about the behind-the-scenes drama.
Article continues below advertisement
"The Kardashian family members, particularly Kim's mom Kris Jenner, are growing increasingly concerned about how Kanye treats Kim," the insider said.
"Kris is also concerned about how Kanye acts around the paparazzi. The Kardashians have made their names off the back off being photographed, but Kanye has a real aversion to it.
"The incident in Beverly Hills last Friday when he walked into the street sign was just the latest in a string of issues that have concerned Kris. When they were in Paris, Kanye kept telling the paparazzi to leave him and Kim alone. But as a manager, Kris wants Kim and Kayne to be photographed; it's their gig."
The close-knit Kardashian clan was also appalled when they saw how Kanye didn't open a door for Kim during a recent shopping trip in Paris. Instead, Kanye waited for the massively pregnant reality star to open the door herself!
"Like everyone else, Kim's sisters and mom saw the video of Kanye and Kim in Paris. They were more than a little shocked, to say the least!" the source said.
"Kris told a friend she couldn't believe that Kanye didn't think it was the right thing for him to do to open the door for a six-month pregnant woman. But Kris has long lamented that it's always been all about Kanye -- and not Kim."
Article continues below advertisement
Also, the source added, Kanye has been shunning Kim's family!
Said the source, "He's ambivalent about spending time with Kim and the family unit. As everyone knows, the Kardashians are a tight-knit group so it has comes as a shock to everyone that Kanye just doesn't want to spend time with them. When he does, it's like he's got eyes on the exit door to make a quick getaway."
On April 29, Kanye flew into Greece for a quick meal with his pregnant reality star girlfriend's family in Mykonos before the couple took a private plane to France.
If Kim is disappointed about Kanye's odd behavior, she's not showing it, according to the source. "Kim expects to be treated like a princess. She always has been in the past. But with Kanye, she's not. She can't see it, however, because she's besotted. She refuses to soak up just how self-absorbed he is, despite everyone telling her just how it is."
That became obvious when Kanye and Kim were strolling out of an underground parking garage and he walked straight into the street sign. His girlfriend comforted him for a moment, but apparently she couldn't calm his nerves, as Kanye soon freaked out, stalking over to a nearby group of photographers, yelling, "Stop taking f*****g pictures man!"
Article continues below advertisement
He and Kim then walked into a restaurant, but the meltdown wasn't over yet, as he soon emerged to unleash an expletive-filled rant on another photog.
"Don't take another f*****g photo man! ... All of you mother-f*****s stop taking photos!" he said, while apparently attempting to grab the photographer's camera.
Kanye and Kim had spent the day looking at real estate in Beverly Hills.
The couple already have a pad in Paris, where Kanye has decorated a baby nursery, as RadarOnline.com has reported, but they can't come to a decision on where their primary residence will be.
Relationship tensions seem to be getting the best of Kanye in recent weeks. He took Kim as his date to the Met Ball in NYC on Monday night, but Gwyneth Paltrow revealed this week that the rapper was "furious" at the event.
Gwyneth said: "This year it was so intense, it wasn't fun, Kanye West was playing, he was furious, he threw his microphone down, it was all drama."
Will the drama continue? For Kim's sake, the Kardashians fervently hope not, the source said.
radar_embed service=5min.com src="http://pshared.5min.com/Scripts/PlayerSeed.js?sid=1126&width=570&height=351&playList=517778118&sequential=1&shuffle=0"