Kanye West Called 'Disrespectful' For Plan To Project Music Video On Historical Shrine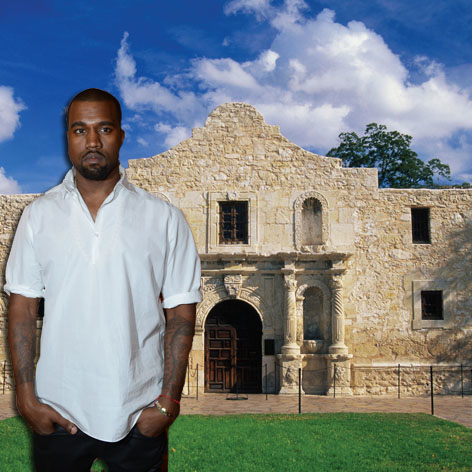 Kanye West's plans to project his controversial new music video onto a national landmark fizzled out on Sunday night.
The rapper told fans on his website to gather at the Alamo in San Antonio, Texas to see a viewing of his New Slaves video.
But the 35-year-old's latest publicity stunt failed to materialize even though around 500 people gathered to see the event, according to MySanAntonio.com.
A crowd of fans and protestors arrived a 11:30pm but San Antonio police officers had already stated that no permit for the projection had been issued. They warned that if someone attempted to set up a projector it would be taken down.
Article continues below advertisement
With no projector and no video in sight, the non-event ended as the crowd dispersed.
But that didn't prevent locals from being upset by West's plans.
Texas National Movement member Angie Alexander said: "It's very disrespectful to the people who died there."
Mark Loeffler, spokesperson for the Texas General Land Office, the Alamo's caretaker, agreed. He said: "It's sad that people have such little respect for the Alamo."
Kim Kardashian's baby daddy had organized screenings of New Slaves at landmarks around the world. But Houston police also shut down the planned event in that city.