Exclusive
Jennifer Gimenez Defends Relationship With Andy Dick -- 'He's Not Gay!'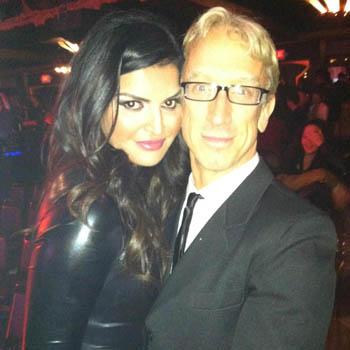 Jennifer Gimenez and Andy Dick have been officially dating for nearly a month now, but Jennifer has a message for the haters who question their relationship: "He is not gay!"
The former Dancing With The Stars contestant and model/actress were long-time friends, whose friendship recently escalated to a new romantic level.
"I know a lot of people think Andy is gay or like to label him that way, but he's definitely not. We have a perfectly healthy and romantic relationship," Jennifer told RadarOnline.com in an exclusive interview.
Article continues below advertisement
"What we have right now is real and we are enjoying every moment of each other."
But haters took to Twitter when news of Jennifer and Andy dating broke to slam the relationship writing, "how is andy dick dating jennifer gimenez i thought he was gay."
Tweeters by the dozen questioned Andy's sexuality — even though he's stated he's bisexual in the past.
"I can assure you that Andy is NOT gay. He is very comfortable with his sexuality and his feelings, and I love that about him," Jennifer told RadarOnline.com.
And things are looking bright for their future.
"Jennifer is my emotional support during this influx of work coming in and out for me," Andy told RadarOnline.com. "She's close with my kids, and she encourages me with my sobriety."
"We are talking about the possibilities of the future and we're also talking about working together," Jennifer said.
"But we're in such a good place in our lives that we want to enjoy every moment and not take each other for granted."