Exclusive
Revealed: How Lindsay Lohan Convinced Super Lawyer Shawn Holley To Take Her Back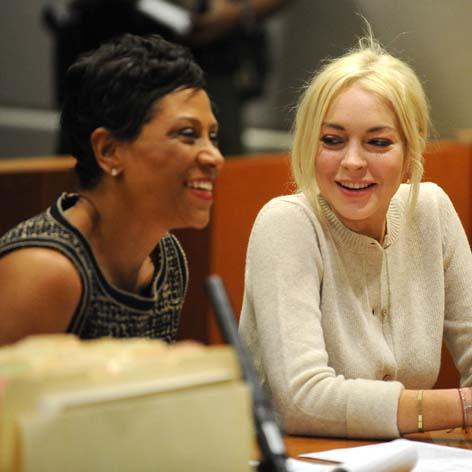 In the moments after Lindsay Lohan bolted from Morningside Recovery last Thursday, she began calling her former attorney Shawn Holley, begging the legal ace to represent her again, and RadarOnline.com has exclusively learned how the embattled starlet pulled it off.
"There was trouble from the time Lindsay arrived in Southern California to check into Morningside, a facility sprung on her at the last minute by her then-attorney Mark Heller," a source close to the situation tells us.
Article continues below advertisement
"Lindsay had serious concerns about her treatment there remaining confidential. So she, her entertainment lawyer and her manager all began calling Shawn, and begging her to agree to come back on board.
"Lindsay was on the phone with Shawn for most of the afternoon, crying hysterically and apologizing for her past actions, which had resulted in her being dumped by the lawyer several months ago," the source reveals.
"Shawn truly felt bad for her but she isn't a glutton for punishment and she made it perfectly clear to Lindsay, if she as much looked at her the wrong way, she was out. No questions asked. Lindsay knows she means it because Shawn had fired her once, and wouldn't hesitate in doing so again," says the source.
As RadarOnline.com was first to report Holley was able to get Los Angeles City Attorney Terry White to agree let Lohan enroll at the Betty Ford Center and avoid arrest for violating terms of her plea deal in the lying to cops case.
MORE ON:
Celebrity Justice
Article continues below advertisement
The cash strapped actress owes Holley over $300,000 in unpaid legal fees, but "payment arrangements are being made," the source tells us
"Lindsay simply can't afford to pay the entire bill at this time, but she has instructed her business manager to to cut a big check to Shawn. Shawn wouldn't be doing this work for free. Shawn and Lindsay have been through a lot together, and she has vowed to turn over a new leaf," says the source.
Calls seeking comment to Shawn Holley weren't immediately returned.