Shocking Claim! Former Nixon Aide Alleges Lyndon B. Johnson Arranged JFK's Assassination In New Book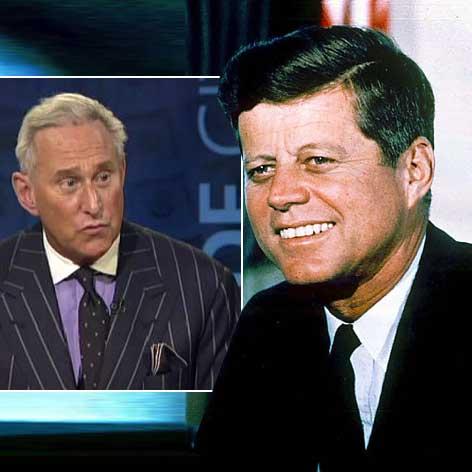 Former Richard Nixon aide Roger Stone makes the explosive claim in his upcoming book that former president Lyndon B. Johnson was the mastermind behind John F. Kennedy's assassination.
The legendary Republican political operative also claims that Nixon and Johnson had a documented relationship with Lee Harvey Oswald's killer, Jack Ruby, years before Ruby shot Oswald.
In his book The Man Who Killed Kennedy--The Case Against LBJ, published by Skyhorse Publishing and set to come out this fall, just in time for the 50-year anniversary of the JFK assassination, Stone offers documents and his firsthand knowledge to try to prove that Johnson was the driving force behind a conspiracy to murder President Kennedy on November 22, 1963.
Article continues below advertisement
Stone promoted the book on his Facebook page Thursday night, writing that Johnson and then Gov. John Connally of Texas "micro-managed" Kennedy's Dallas motorcade and "demanded the route thru Dealy Plaza where the motorcade came to a full stop and LBJ had JFK killed."
Stone, who worked for Richard Nixon's Committee to Re-elect the President in 1972 and later served in the Nixon administration, also claimed on Facebook that when LBJ and Nixon were both congressmen, "Nixon knew Jack Ruby, hired him on House payroll in 1947 at the request of...Lyndon Johnson. Newly released documents prove it, in my upcoming book."
Ruby died in 1967, LBJ in 1973, and Nixon in 1994.
It's not the first time Stone has been involved in controversy. As RadarOnline.com has previously reported, Stone has described himself as the "sleaziest man in American politics," has been credited with blocking the 2000 presidential recount in Florida, and claimed he wrote a letter to the feds detailing former New York Gov. Eliot Spitzer's penchant for pricey hookers.
Stone now identifies himself as a Libertarian.