Exclusive
Brooke Mueller Goes Back To Court In Attempt To Strip Denise Richards Of Custody Of Twins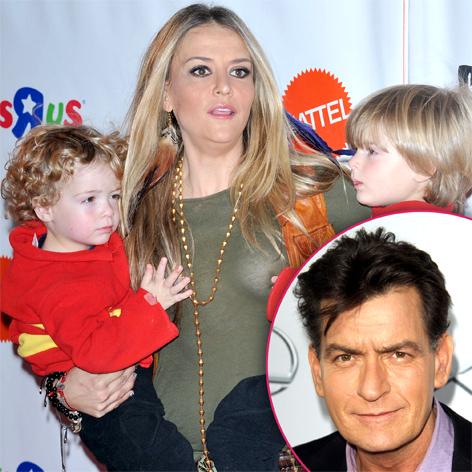 UPDATE: 2:00 p.m. PST -- The judge overseeing the case was unable to hear Mueller's request on Wednesday morning because another case was being heard. Lawyers for Charlie Sheen and Mueller are expected to go before the judge in the afternoon session.
Charlie Sheen's third ex-wife Brooke Mueller's lawyers are headed back to child dependency court in yet another attempt to strip Denise Richards of temporary custody of her twins, Bob and Max – a move which the child protective services will oppose, RadarOnline.com has learned exclusively.
Article continues below advertisement
Richards and Sheen aren't expected in court for the proceedings. Mueller recently checked into the Betty Ford Clinic for a 30-day treatment stint, marking the 20th time she's entered a treatment facility to seek help for substance abuse.Mueller wants the twins to live with her brother in Orange County, which would be extremely disruptive to the little boys, an insider explained to Radar.
"The Los Angeles County of Department of Children & Family Services will again oppose the boys being removed from Denise's care. Max and Bob are in preschool and would be uprooted from their schedule and routine, if Brooke gets her way. The transition of the boys from Brooke to Denise's house has been very smooth, and they are both extremely happy. They go to school, go on field trips with their class. That would all change if Brooke's request is granted. It makes no sense, and Brooke's sole motivation is that she is concerned about her $55k a month in child support," thesource exclusively told RadarOnline.com.
As we first revealed, Mueller and Sheen's twins were taken away from her because of fears their mother's drug use could endanger them. Richards was given temporary custody of the boys -- with Sheen's blessing. It followed her being placed on an involuntary psychiatric hold at the UCLA Medical Center under the Californian Welfare Institutions Code 5150 -- the same evaluation that Britney Spears went under in 2008 that allows for a qualified peace officer or clinician to involuntarily confine someone because it's deemed they have a mental disorder that makes them a danger to themselves and/or others.
Although Mueller is seeking to regain custody of her twins, the judge shot down the same request by Mueller last week.
"Nothing has changed since last week as far as the boy's well-being or Denise's care of the boys. If anything, Bob and Max are doing even better. Denise went on a preschool field trip with Bob and Max earlier this week," the insider revealed.