Exclusive
Brandi Glanville Reacts To NeNe Leakes: 'Why Can't I Be Gangsta? Because I'm White, Tall And Skinny?!'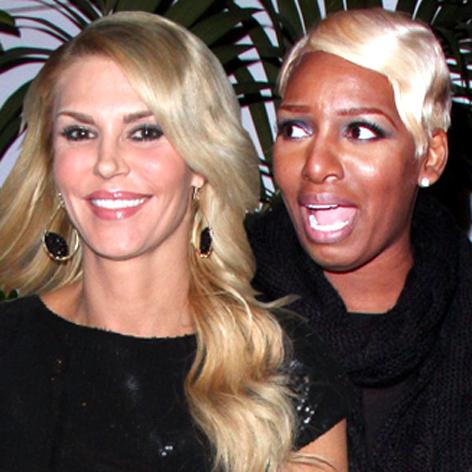 NeNe Leakes ripped on fellow Real Housewives star Brandi Glanville on Sunday night calling her a "train wreck" and made fun of her because she "thinks she's a gangsta," but Brandi exclusively tells RadarOnline.com that Nene should get to know her first before judging her.
"It doesn't affect me. She doesn't even know me. If she wants to sit down and hang out with me and my boys and come have dinner, come on over. Get to know me first. Then she can say what she wants about me," Brandi told Radar.
Article continues below advertisement
"At the end of the day, at least she's talking about me. It doesn't matter if she's saying good or bad, she's talking about me. And I am gangsta! Why can't I be gangsta? Because I'm white, skinny and tall?!"
The Real Housewives of Atlanta star appeared on Andy Cohen's Watch What Happens Live and dissed the Real Housewives of Beverly Hills star saying, "She's just off the chain, she's off the hook with a lot of the things that she has to say, just so talkative."
But Brandi claims the last time she saw NeNe was at the Bravo Upfronts in April at 2 a.m. after she'd admittedly has a lot to drink.
"I was totally tipsy…we were all just having fun," Brandi said of when she was invited over to Andy's table at the Upfronts to say hi.
"So I said I was gangsta. It's NeNe…I could care less. I don't know her. I enjoy her on the show and I think she's really good TV, but as I was watching the show last night I felt like she was drinking her own kool-aid a little too much."
And even though NeNe is the highest paid cast member in the Housewives franchise, banking a lucrative $1 million contract for Season 6, Brandi thinks she needs to check her ego.
"I do think she was trying to take responsibility for everyone's success a bit," Brandi said of NeNe's appearance on Watch What Happens Live.
"It takes a village and we're all in this together. Everyone on the show brings something different and they're all important roles."