Exclusive
Blake Shelton's Mom Disses American Idol & Nicki Minaj : 'Nicki Makes Me Throw Up!'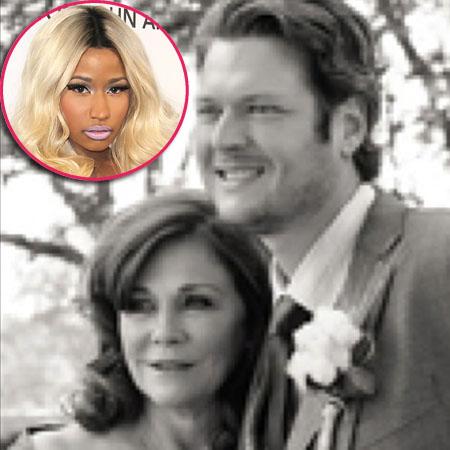 This time it's not Blake Shelton making headlines -- it's his mother!
As a coach on NBC's hit talent show The Voice, his mother Dorothy Shackleford is sure to be supportive of his gig, but RadarOnline.com has exclusively learned she's taken it a little further, bashing the competition on Twitter — particularly American Idol coach Nicki Minaj.
"Those poor kids on idol don't know what to do, its damn if you and damn if you don't! Sh*t they don't know wht to do," she tweeted a few weeks ago.
Article continues below advertisement
"Niki makes me throw up!"
But it wasn't all negative from Dorothy, who seemed to have eyes set on Nicole Kidman's hunky husband, Keith Urban.
"I will say that Keith urban is sooo cute!!!!" Blake's mom tweeted.
Blake supports his show The Voice via Twitter as well and tweeted Wednesday morning, "This year on The Voice we're bringing country to the party! That's right. Any critics that don't like it can have a warm bowl of nut sack.."
And it's clear where Blake gets his sharp tongue from, because Dorothy doesn't limit her tweets to American Idol disses — she's also got it out for Donald Trump.
"By looking at Donald trumps hair, how would he know what looks good? Ba ha ha," she tweeted.
So far no word yet from Dorothy on the breakup reports surrounding her son and his wife Miranda Lambert.
Be sure to follow us on Facebook and tweet us @Radar_Online.