Beyonce Responds To Pregnancy Reports, 'I Can't Stop The Rumors From Starting'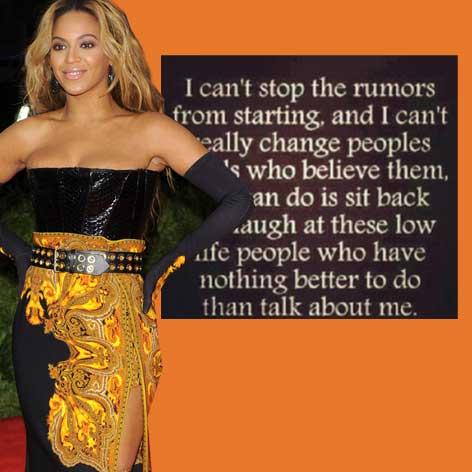 Beyonce is uncharacteristically responding to reports she is pregnant with her second child.
"I can't stop the rumors from starting, and I can't really change peoples minds who believe them, all I can do is sit back and laugh at these low life people who have nothing better to do than talk about me," is the message she posted to Instagram Friday night, reported the Daily Mail , adding that she's since removed it.
Article continues below advertisement
Jay-Z's wife's comment followed E! News moving past the rumor stage and reporting definitively that she's pregnant, and her friend Russell Simmons tweeting congratulations to the pair.
Beyonce is continuing with the European leg of her latest tour -- it moves to the U.S. next month -- and so far Jay-Z has stayed mum on the is she or isn't she question.