Whoopi Goldberg: I Don't Care Who Replaces Elisabeth Hasselbeck On 'The View'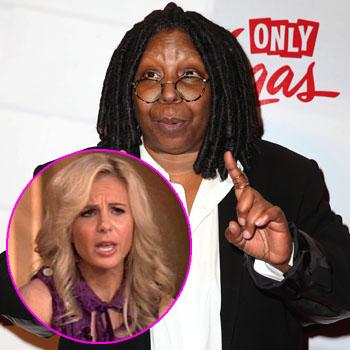 Whoopi Goldberg is on The View to make money  - not friends!
The outspoken talk show host bluntly revealed that she doesn't care who fills ultra-conservative co-host Elisabeth Hasselbeck's seat on the show as long as she still gets paid.
"Let me tell you this about The View: I take a paycheck every other week. That's all I do. I could give a s**t what comes. I do my job -- I have a contract. That's where I stand. I don't give a f**k," Goldberg told Us Weekly at Vanity Fair's Tribeca Film Festival party on Tuesday.
Article continues below advertisement
Former Survivor contestant Hasselbeck has been rumored to be on her way out of the ABC chat show -- despite a tepid denial by Barbara Walters -- and is being wooed by CNN's new boss, Jeff Zucker, according to a recent New York Post report.
While the Ghost star promised she will be courteous to whoever replaces both Hasselbeck and 16-year veteran Joy Behar, she stressed that she is not actively involved in the casting decision. "Whatever y'all want. Just make sure my check doesn't bounce!" said 57-year-old Goldberg.
"I don't care. That's not my job… My job is to show up and be cute by 11 o'clock and get the f**k off that show by 12. And that's what I try to do."
Rather than get caught up in the rumors of who will be arriving on the set  – with actress Brooke Shields being the current front runner to guest-host -  Whoopi said she just keeps her head down and avoids the gossip mill.
"I think it's the only way to keep your sanity because these are not decisions that I get to make," she told Us. "It ain't my show. It's Barbara's show."
There has been speculation that Walters may retire in 2014, but on April 1 the 20/20 anchor announced that there were "no announcements to make."