Vidal Sassoon's Son David: Celebrity Hairdresser Forced Me To Have Weight-Loss Surgery!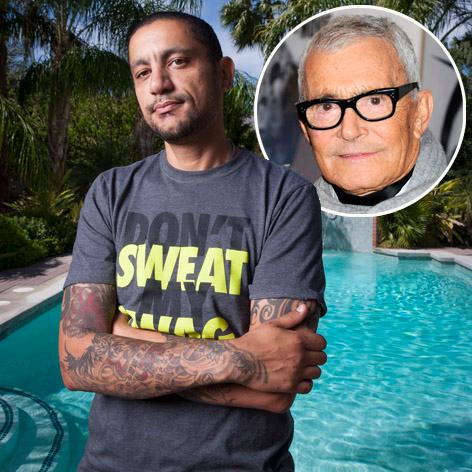 Celebrity hairdresser Vidal Sassoon's motto "If you don't look good, we don't look good" was more than just a catchphrase, according to his adopted son.
David Sassoon has revealed in an exclusive interview with The Mail on Sunday that hair icon Vidal, who died last year, was so obsessed with his image that he forced him to have life-threatening weight loss surgery.
According to David, when he had a motorcycle accident after college, he couldn't exercise and ballooned to about 350 pounds. He said, "I got very fat. Dad said he would disown me if I didn't have laparoscopic stomach surgery....I was scared. It was 2005 and the surgery was new and dangerous. Dad told me, 'you are the only one in the family who doesn't look the part'.... I felt bullied into it."
Article continues below advertisement
The Sassoon son claimed the surgery wrecked his body, causing ulcers, kidney stones and acid reflux. "I wish I'd never done it, but I didn't have a choice. Dad wanted it so I had to do it. I got so emaciated I looked like a concentration camp survivor," David declared to The Mail.
Vidal, who built a hairdressing empire worth more than $150 million, strove for perfection in all things, recalled his son, 40. "Money and image were all that mattered to him," concluded David, one of four children the British-born hairdresser raised with his wife Beverly. "My dad had that slogan, 'If you don't look good, we don't look good.' That carried through to the family. Dad was someone who would dress up to go to the supermarket. He was terrified of being seen not looking perfect. His image was everything."
David, who was adopted out of foster care by Vidal and Beverly, said his wealthy father cut him out of his will just two months before his death from leukemia at age 84. His sister Catya died of a drug overdose in 2002.
"When she passed away the family didn't know what to do with all their animosity so they started directing it towards me," David claimed. "Dad didn't like the way I looked, how I dressed, how I behaved."
But the Sassoon son, who has been very open about his history of drug and alcohol abuse, also revealed he has received lavish income from a family trust.
"David is angry about a lot of things," his mother Beverly told The Mail. "He should stop blaming other people for his problems. I love David, but he has to move forward."