Juicy! TODAY Show Wanted To Steal Robin Roberts PLUS Called Katie Couric 'Traitor' For Hosting Good Morning America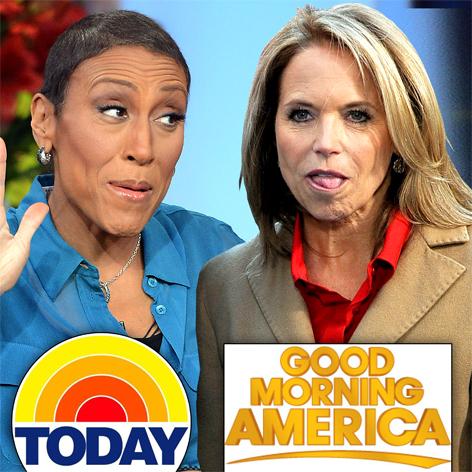 Gossip, name calling and plotting against rivals.
No it's not another network drama, it's the real-life events surrounding the war between the TODAY show and Good Morning America -- and author Brian Stelter discovered that at one point the NBC show was desperate to steal Robin Roberts.
"NBC had done a lot of research about Robin Roberts and they found she is by far the most popular female morning show host," Stelter said about the plot in a recent interview.
Article continues below advertisement
"One person in a focus groups told me, 'Robin can do no wrong.'"
TODAY lost its decade-long hold on the No. 1 spot in the morning ratings race to Roberts and GMA, as Ann Curry became the center of controversy for the peacock network, which coldly dumped her from the anchor chair.
But before Curry's demise, TODAY bosses plotted to get Roberts to their network but simply couldn't make it happen.
"Jim Bell wanted to meet with Robin but it never took place," Stelter said about the then-executive producer of TODAY.
"There's no war in TV better than TODAY versus Good Morning America," he added, and his book, Inside the Cutthroat World Of Morning TV reveals lots of juicy details proving that point.
When Katie Couric briefly returned to morning TV by appearing on GMA it caused quite a stir.
"I don't know if Matt Lauer thought Katie Couric was a traitor for going on GMA but a lot of the staff did," Stelter revealed.
Article continues below advertisement
According to Stelter's book, Couric filling in for Roberts, "sideswiped NBC. None of the senior leaders of the news division were in New York when it was announced...Now suddenly, their underlings (TODAY bosses) had to scramble to come up with counter-programming--which put them in a foul frame of mind....others called Couric a traitor outright. NBC however had to fight back. What was it going to do, roll over and let GMA win?"
Article continues below advertisement
As previously reported, in the days after Curry's teary goodbye from TODAY, the publicist for the morning news program urged bosses to issue an apology for bungling the anchor's exit, but was shot down by the honchos.
And while all the gossip seems centered on TODAY, the author says there's some juicy things happening at GMA, too.
"I did find some gossip at GMA," Stelter said. "Frankly there were a lot more bad things happening at the TODAY show last year!"
Well, we'll have to wait for the next book to find out what's happening over at ABC!