'B*tch Don't Steal My Dress': Online Wars Erupt Over Prom Dresses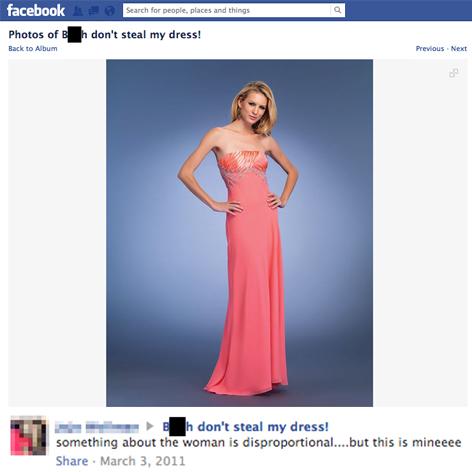 Finding the perfect prom dress has always been an exciting, if not stressful moment for high school seniors, who not only compete to find their dream dress, but to avoid the ultimate fashion faux-pas -- showing up at prom in the same dress as another girl.
In fact, the pressure to land a gorgeous gown has become so intense, that for some high school seniors in New York, finding their dream prom dress has become a matter of life or death.
Article continues below advertisement
To ensure that no one else will be wearing the same thing as them, these social media-savvy seniors are using Facebook, Instagram, Twitter and Tumblr to lay claim to their prom dresses by posting 'selfies' of themselves modeling their gown, often right from the store's dressing room.
While teens using their smartphones to elicit feedback on their fashion choices is nothing new, what has many parents concerned are the life-threatening messages being posted alongside some of these prom dress pics.
According to the New York Post, some prom dress photos are being tagged to groups like 'Don't steal my dress or I might have to have your family murdered' and 'B*tch Don't Steal My Dress' and 'Steal My Prom Dress and I'll Knock You The **** Out.'
A prom page created on Facebook for Brooklyn Tech students to post their prom dress pictures even includes the greeting, "Welcome to the page where you tell people you'll physically hurt them over formal wear."
Still, according to the Post, the students posting their dress pictures to these groups don't seem to be alarmed by the threats, claiming that most girls are just using social media to get feedback on their dress choices and to call dibs on them, not to post mean or threatening comments.