Shain Gandee Was Driver Of Death Car That Killed Three, Muffler Buried In Mud, Carbon Monoxide Poisoning Suspected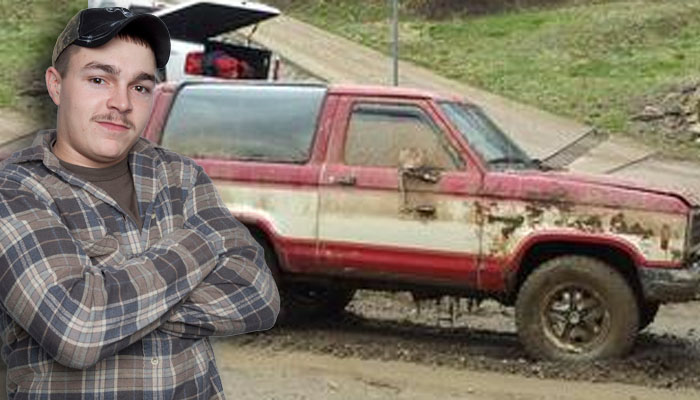 The SUV where Shain Gandee, his uncle David Gandee and his close friend Donald Robert Myers died, has finally been pulled from its muddy grave.
Shain, the Buckwild star, has been identified as the driver. The vehicle was partially submerged in deep mud, with the muffler completely below the surface.
Speculation is growing that the three may have decided to keep the vehicle running with the heat on after they became stuck because the temperature was below freezing. Not realizing the muffler was blocked, carbon monoxide would have quickly built up inside the Bronco.
Article continues below advertisement
As RadarOnline.com exclusively reported, Shain had spent Saturday helping one of his cousins open her new general store in Crown Point, Ohio.
After returning to West Virginia, Shain joined his uncle and the two went to a local bar where they reportedly stayed until 3 a.m. Sunday.
In a press statement, Kanawha County Sheriff Corporal Humphreys wrote: "The Kanawha County Sheriff's Office can now release the names of all three deceased individuals inside the Ford Bronco recovered today in Sissonville: Shain Gandee, David Gandee (both previously identified), and Donald Robert Myers (27 years of age), all from the Sissonville area of Kanawha County, WV."
"The vehicle and bodies were found by one of Shain Gandee's friends who was searching the trails and ridges in the area for him and the others. The vehicle sat unevenly, but upright, and was partially submerged in deep mud.
"Mud was covering the lower part of the passenger side door of the vehicle, but the driver's side of the vehicle was above the mud. The muffler of the vehicle was completely below the surface of the mud.
Article continues below advertisement
"The Bronco was found next to a ridge-top trail. That section of the trail itself was passable for four-wheel drive vehicles. However, the Bronco was in a mud pit next to the trail. That area is accessed by following the wooded trails for approximately one mile from Shain Gandee's residence, near Thaxton Hollow in Sissonville.
"Shain was seated in the driver's seat of the Bronco. The Bronco was removed from the mud pit by a bull-dozer.
"Their bodies were removed from the vehicle and have been taken to the Office of the Medical Examiner. Autopsies will be performed to determine the cause of death."
The vehicle was discovered at 11:30 a.m Monday by a person on a four-wheeler. It was found approximately one mile up a dirt road, forcing law enforcement to use all-terrain vehicles to get to the scene.