Exclusive
'Buckwild' Star Shain Gandee's Last Days Revealed! 'We're All Completely Devastated,' Says Cousin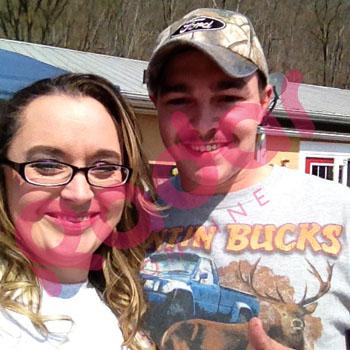 Just one day before Buckwild star Shain Gandee tragically died, he made a trip from West Virginia to Ohio to help out his second cousin who was opening a general store, and RadarOnline.com has an exclusive photo and interview with the cousin Shain went out of his way to help.
On March 30, Shain, 21, made an appearance at the grand opening of his cousin Ashley Gandee Lewis' Gandee's General Store in Crown City, Ohio, to help draw a crowd for the event and Ashley tells RadarOnline.com that fans showed up from as far as Texas to meet the MTV reality star. Shain was found dead on Monday in West Virginia in a Ford Bronco with his uncle and a family friend.
Article continues below advertisement
"We had the grand opening with him, smiling, signing autographs, and just being his fun self," Ashlee told RadarOnline.com exclusively. "We actually had people here from Texas, from Dayton, Ohio, from Pennsylvania. People drove hundreds of miles just to meet him because he was such a lovable guy.
"I'm completely devastated and I know that his entire family is too. It's just totally unexpected," Ashley said of Shain's shocking death. The MTV star was last seen at a local West Virginia bar on Sunday at 3 a.m. Shain and his uncle reportedly said they were going off-roading. Family members spent Sunday looking for them and then reported them missing.
As RadarOnline.com previously reported, Shain, his uncle David Gandee,48, and family friend Robert Myers, 27, were discovered in Shain's car — but the circumstances surrounding their death haven't been revealed, and Ashley says their entire family is still in the dark about it too.
"We do not have confirmation yet from anybody what exactly happened. We know there were three of them in the car, but we don't know the circumstances. We're still waiting to hear," Ashley told RadarOnline.com.
Article continues below advertisement
"I've talked to Shain's dad, mom and aunt, and they're not holding up well. They're really taking it hard and just crying as any mother would, to find your son passed away so unexpectedly."
Ashley says Shain was happy to help out at the grand opening, taking pictures with fans and signing autographs on just about anything, for more than three hours.
"That's just the kind of guy he was," Ashley fondly remembered.
"I hope everybody respects the family at this time of loss and tries to refrain from overwhelming them. I hope everybody can just give them the space they need to grieve."
Authorities in West Virginia said the cause of deaths likely will be determined by autopsies.
"I am sorry to report that Shain Gandee and two other people were found dead today," a Kanawha County Commission spokesperson told RadarOnline.com exclusively.
"This is a very sad and tragic event. We live in a very small community and this tragedy will affect many lives in Kanawha County. Our thoughts and prayers are with the Gandee family."
Gandee's vehicle was discovered at 11:30 a.m Monday by a person on a four-wheeler. It was found approximately one mile up a dirt road, forcing law enforcement to use all-terrain vehicles to get to the scene.