Up, Up And Away! Robert Pattinson Leaves Kristen Stewart Again…For Work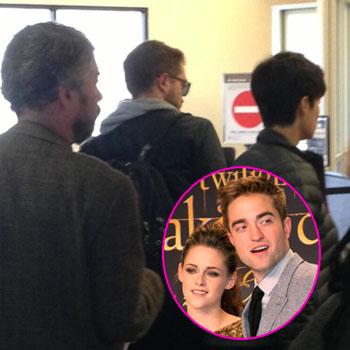 Kristen Stewart and Robert Pattinson are separated again!
The pair has enjoyed a loved-up month where they were spotted at various nightspots around Los Angeles and at the Coachella music festival together, after having been apart from each other for 64 days while Robert filmed The Rover in Australia.
But on Tuesday afternoon, Robert, 26, was spotted heading out of LAX solo with Kristen, 23, nowhere in sight as he is due to start work on his new film Mission: Blacklist this month.
Article continues below advertisement
One fan managed to get a snap of the actor at the airport and tweeted, "Robert Pattinson and I just go through security at LAX together!! #daymade."
It's not confirmed where Rob is headed, but reports suggest his latest project could be filmed in either Jordan or Morocco, so Kristen could be left to her own devices for a considerable amount time.
The two have been inseparable since Rob arrived back in Los Angeles from Adelaide at the end of March.