Oscar Pistorius 'Drinking Shooters' & "Flirtatious' In South African Restaurant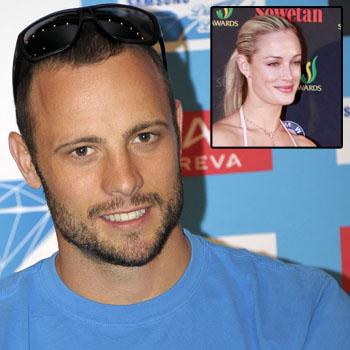 Accused murderer Oscar Pistorius has come under fire for reportedly drinking and flirting with women in a restaurant over the weekend, shocking patrons with his brazen behavior!
The "Blade Runner" has been charged with shooting his girlfriend Reeva Steenkamp in his home and is awaiting trial but he was reportedly at the Kitchen Bar in northern Johannesburg last Saturday night.
"He was drinking shooters and he was flirtatious. He didn't seem like someone who had lost the love of his life," an unnamed woman told South Africa's Sunday Times.
Article continues below advertisement
Pistorius, 26, entered the restaurant around 9pm and was accompanied by a male friend and bodyguards.
He has grown a beard and one guest said he was flirting with several women.
"He was greeting a couple and then gave the woman a little pat on her backside. It was just so inappropriate."
"He's the last person we expected to see," another guest was quoted as saying. "I can't believe he showed his face in public, carrying on as if nothing's happened."
His rep "strenuously and vigorously" denied the story and dismissed it as a "sensationalist" report.
A judge has ruled that he is not prohibited from drinking alcohol or traveling abroad while out on bail for the trial.