'Only A Matter Of Time Before Octo-Mom Loses Her Kids,' Says Source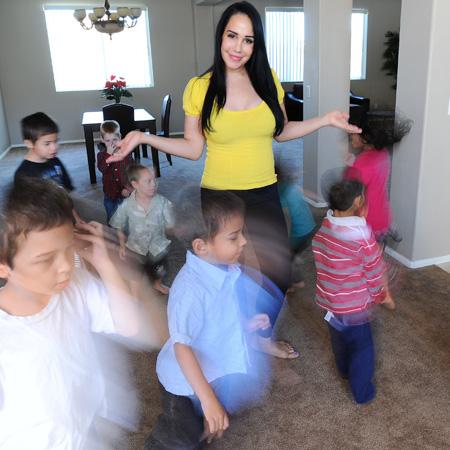 In the aftermath of the squalor that Nadya "Octo-Mom" Suleman and her 14 children were discovered living in, RadarOnline.com has exclusively learned that it's only a matter of time until she loses custody of the children.
RadarOnline.com obtained exclusive photos that document what her horrified landlord found last week after he regained access to the house, a den of filth filled with piles of trash, scattered toilet paper, broken blinds, empty booze bottles and cans — even a half eaten pizza.
Article continues below advertisement
According to a source, the house smelled like "urine."
The walls were left riddled with graffiti and discarded clothes and toys littered the stained carpet. Octo & her brood moved out of the Palmdale house in the middle of the night after she failed to pay her April rent.
"The pictures only prove what social workers feared, that the children were living in filthy and unsafe conditions. It's very distressing to find out that the house smelled of urine, which is deplorable for children to be around," an insider tells RadarOnline.com exclusively.
"Nadya has been under investigation by the Los Angeles County of Department and Family Services for several months, and social workers will be making contact with her to discuss what is seen in these pictures. It's only a matter of time until Nadya loses custody of the kids. It's just getting to the point where the children just aren't safe in her care," the insider adds.
"Social workers always try to keep families together, and in this case, it just comes down the kids safety. Nadya is in over her head," says the source.
As RadarOnline.com revealed last week, Octo-Mom — an occassional stripper and porn star — is receiving free health insurance from the Californian government, all while the L.A. County Dept. of Welfare Fraud Prevention investigates whether she is making more than minimum amount required to collect welfare.